ARTCARD / AIRBNB United States

21072019.jpeg
cm 40X50
acrylic and graphite on canvas
2019

ANDREA MARTINUCCI
Courtesy the artist and Renata Fabbri arte contemporanea, Milan
Collection: Airbnb Art Collection - NY / Los Angeles

Art Advising by Federica Sala.
Text by Bianca Baroni.




For this issue Milan-based Roman artist Andrea Martinucci has conceived a fantastic new work which emerges from his existing series titled JPG. This body of artworks, which has defined his practice since 2016, investigates the potential overlap between the imaginary of social media and the language of painting. The artist has developed this series as a trajectory of hyper-realistic representations of Instagram's posts selected from the platform's endles stream. While navigating the ocean of images that populate the net, Andrea looks for paradoxes, strange juxtapositions, images that incarnate visual as well as conceptual contradictions. He picks them out and re-configures them into stratified compositions combining figures and abstract color patches.
For this particular commission, Andrea plays with that same state of amusement that defines his contact with such digital content. The artist takes that sense of wonder and uses it to think about the experience of a foreigner encountering Italy's artistic and architectural beauties for the first time. To create this painting, Andrea has picked a photo taken and posted by @csilvat on his Instagram account. A picture that captures a classical statue bearing an orange towel on its head, as if seeking shelter from the burning-hot Italian sun. The image embodies an ironic perspective onto Italy's imaginary: the elegant and majestic subject of the statue is turned into
the protagonist of an Italian cliché.
However Andrea's personal interpretation of this picture does not simply play with the overlap between classicism and contemporary popular culture. Most importantly this work looks at the idea of discovery. Our country still embodies so many stories to be told and the majority of our patrimony lies under our feet waiting to be revealed. This obviously impacts Andrea's view on our own country and so it also influences his artistic approach. As we can see his painting at once reveals and conceals the initial image, putting the viewer in the position of an archaeologist. An inquisitive explorer encouraged to investigate the clues give by the artist and to re-imagine the original full picture.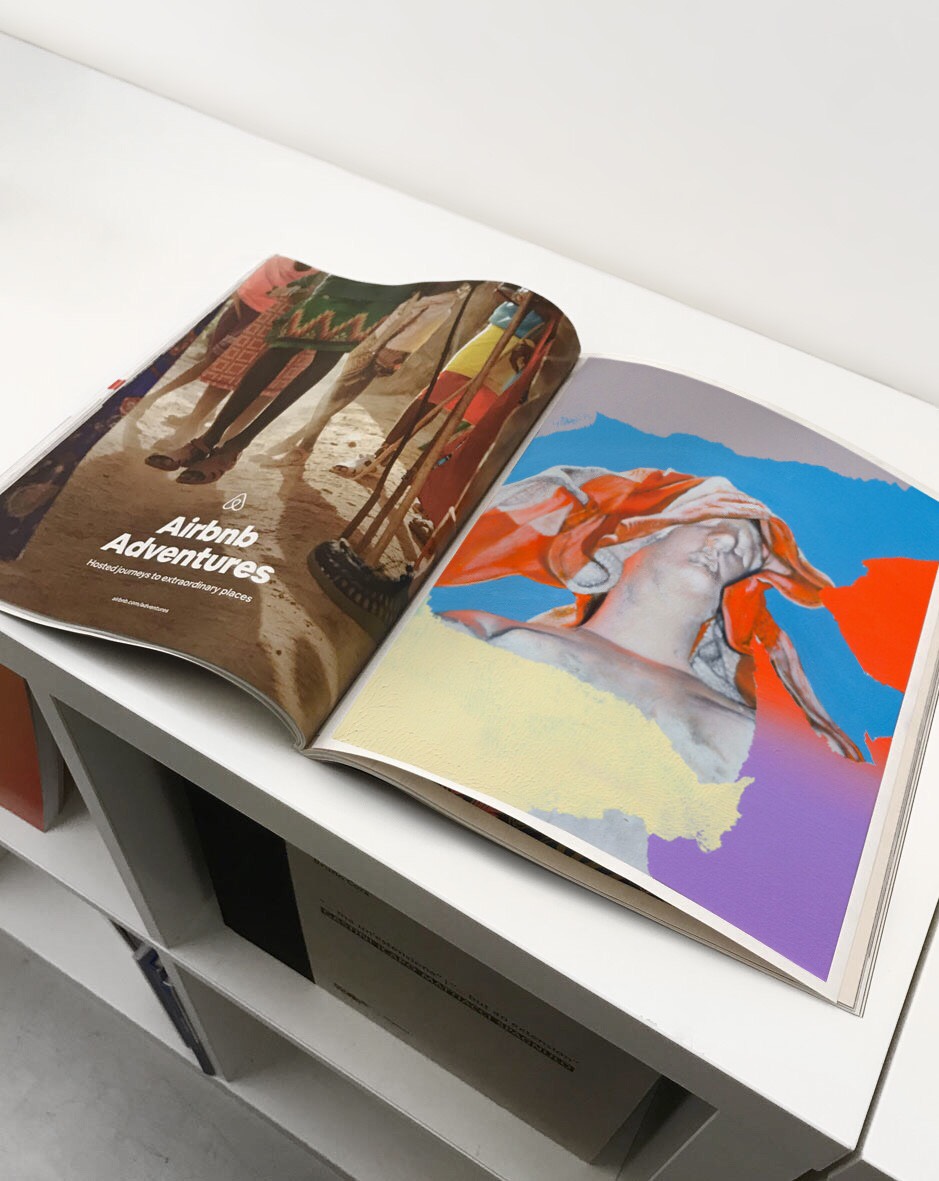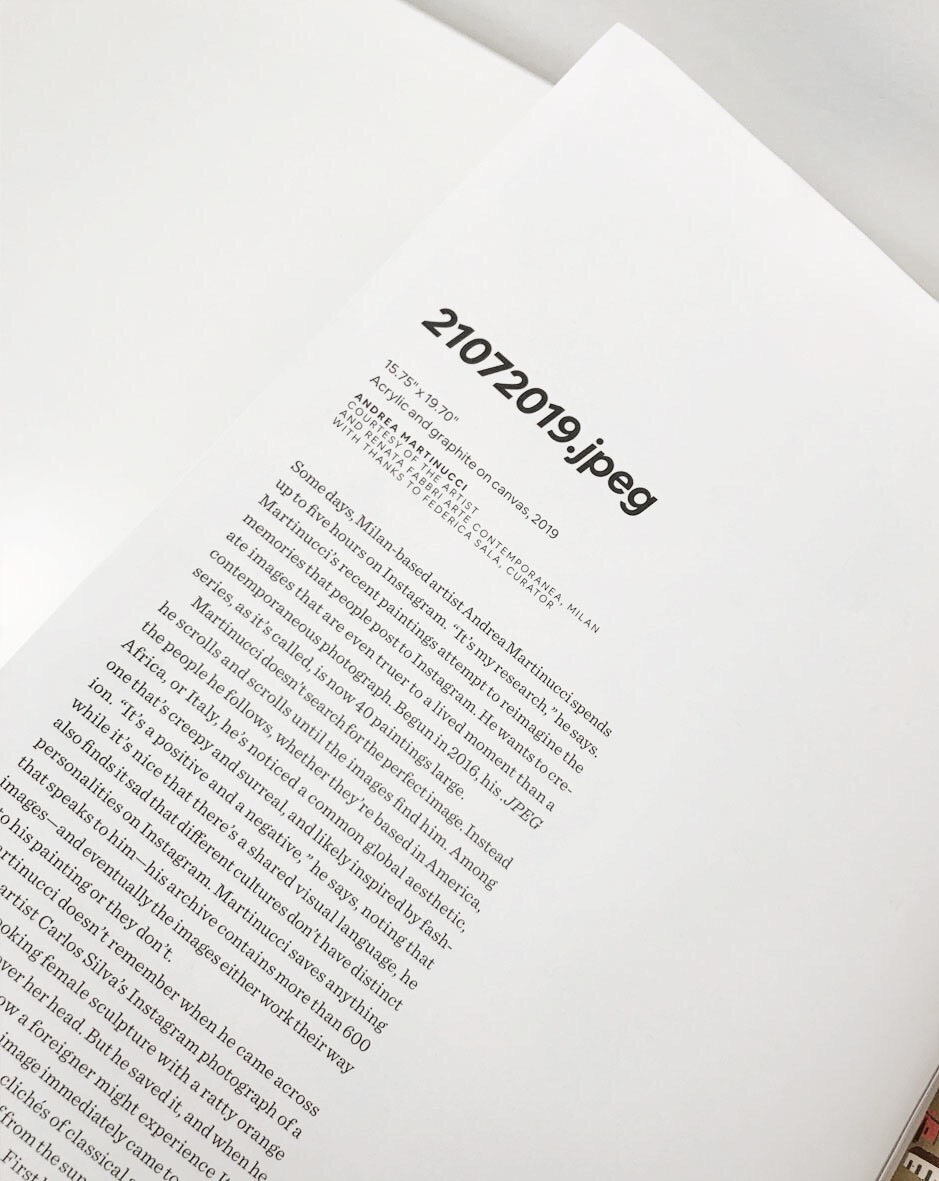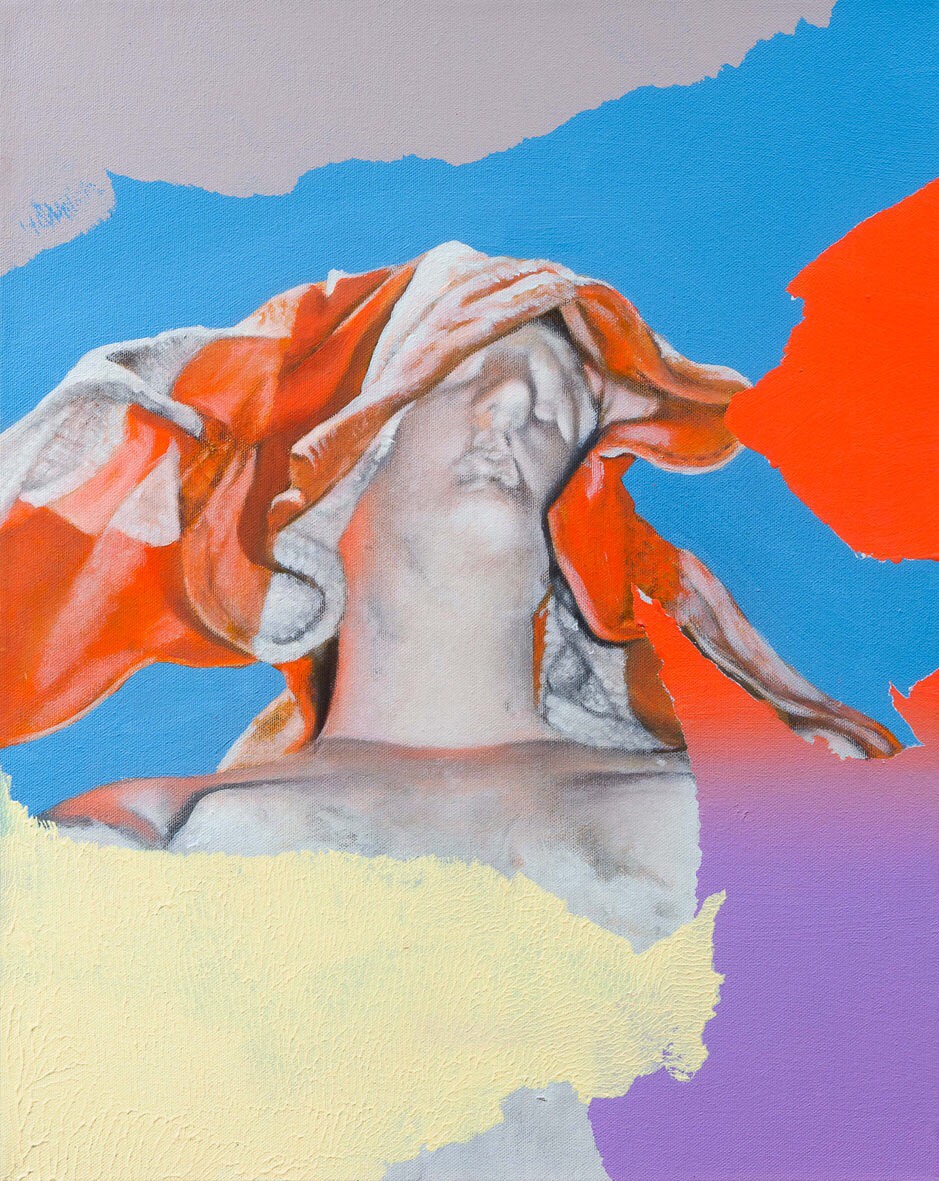 INSIDEART COVER #117
Artistic intervent on commission
2019


EH?
Printed Sample ink on paper,
31X42 cm
2019


For the cover commissioned by INSIDEART, Andrea Martinucci plays with the viewer through his imaginary born of the .jpeg series.
The question in this case plays the same protagonist role as the figurative element often used by the artist.
Ironic and provocative Martinucci creates a visual mirror as if the buyer were asking himself the same shy questions that usually arise in front of new artists or something little know.

Art only asks questions.

Do you know this artist? What does a mean? Eh?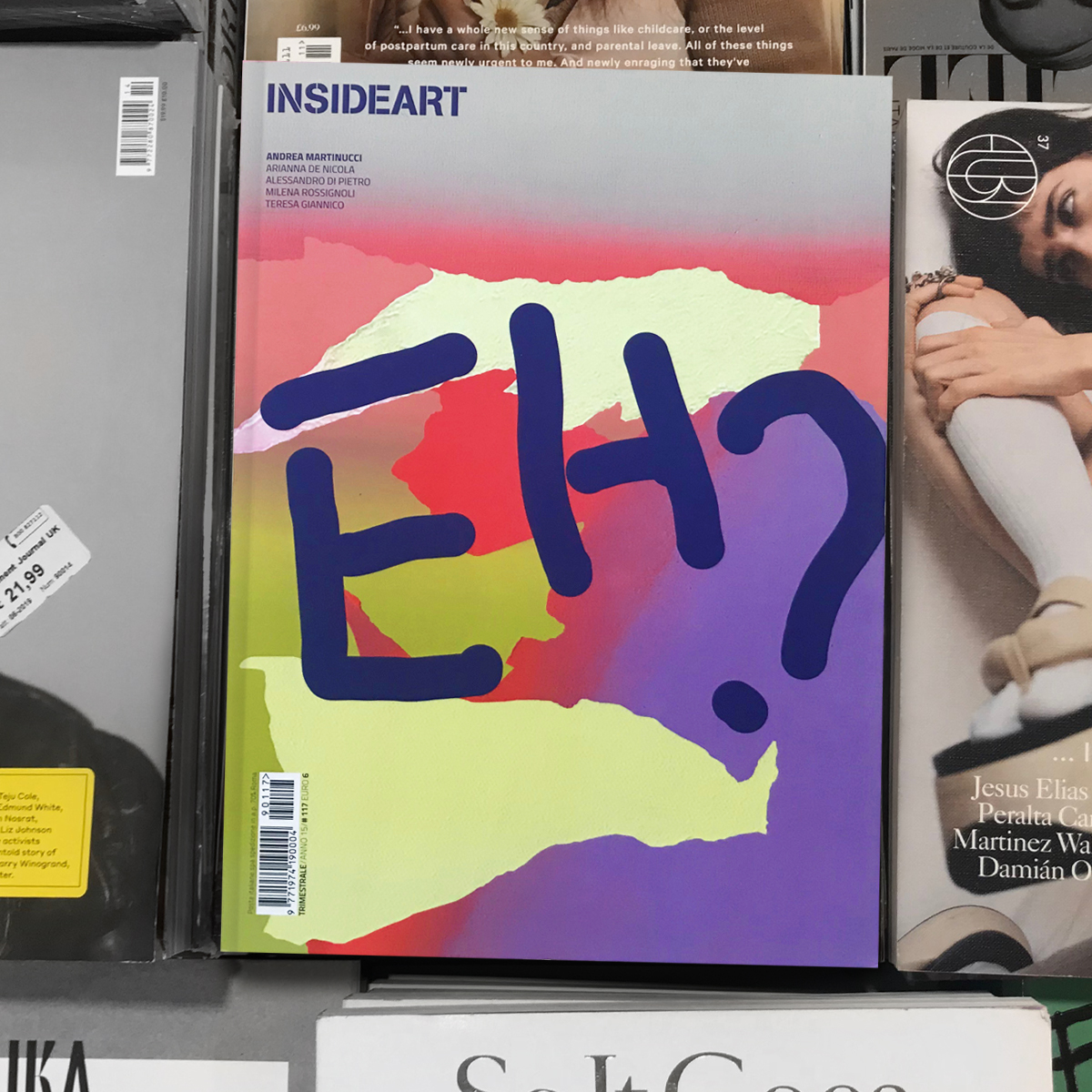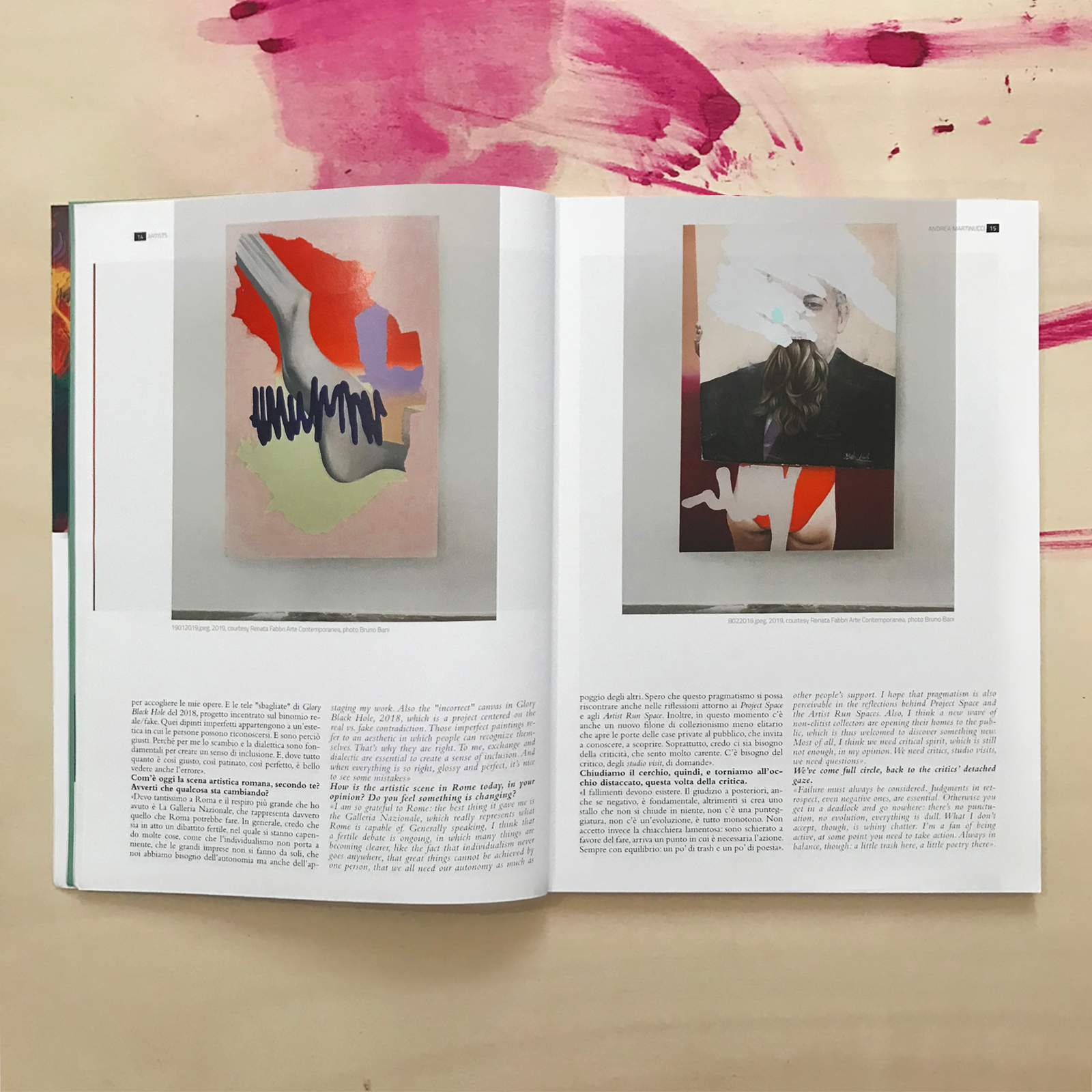 Spazi Festival 2018
Artistic intervent on commission
2018


I HAVE NO BUDGET FOR THIS WALL.
Printed Sample ink on A3 paper,
210x150 cm, 2018,
Fabbrica del Vapore, Milan

+

Talk " Homer & Pop Art":
by Claudia Contu
with Maria Chiara Valacchi, Andrea Martinucci and Arianna Beretta. Fabbrica del Vapore, Milano.



SPAZI è un progetto finalizzato alla valorizzazione delle realtà indipendenti e no-profit che attraverso la propria attività promuovono la diffusione dell'arte contemporanea.
Nato nel 2015 come osservatorio dedicato alle diverse forme progettuali sviluppate negli ultimi anni da project space, spazi indipendenti, artist run space, collettivi, SPAZI è un progetto fluido, una rete che agevola il dialogo tra queste nuove realtà e il pubblico. SPAZI si concentrerà sul contesto milanese, ponendosi come evento diffuso, coordinando un'apertura straordinaria delle realtà attive nel tessuto urbano e organizzando una serie di incontri formativi dinamici, tavole rotonde e talk di approfondimento in un luogo (la Sala delle Colonne della Fabbrica del Vapore) che funzionerà come centrale operativa.



SkiesLab è un progetto realizzato in occasione del festival SPAZI 2018. Frutto di un inteso scambio di idee e opinioni durato più di tre mesi tra i curatori invitati Bite the Saurus (Dalia Maini e Vincenzo Di Marino), Giulia Colletti, Claudia Contu, il laboratorio avrà due forme diverse e ospiterà "printed sample", intervento artistico di Andrea Martinucci. Nella prima giornata (sabato 6 ottobre) una tavola rotonda permanente permetterà a chiunque vorrà di proporre tematiche e spunti sui quali confrontarsi. Sarà quindi il pubblico stesso ad attivare il dibattito attorno a quelle tematiche più urgenti dal loro punto di vista. Nella giornata di domenica 7 ottobre saranno i curatori inviati a proporre spunti per una discussione che intende coinvolgere fortemente tutti i partecipanti. Skieslab è la volontà di creare un progetto/laboratorio condiviso, il più possibile aperto e disponibile verso ogni idea e ogni tipo di partecipazione.
Fanzine for "Una Vetrina", Rome.
2018

Adapt or Die - Courtesy by Andrea Martinucci.
Ink on paper, 5 limited edition on A5 size

Click here for watch the fanzine

Organised by Andrea Polichetti, Niccolò De Napoli and Silvio Saccà. Curated by Vasco Forconi with the contribution of NERO editions and Untitled Association.

Theoretical text of Laura Amann and conversation with Franco Candela, owner of the Barberia "Da Franco"

Artists: Michele Gabriele, Emiliano Maggi, Andrea Martinucci, Caterina Morigi e Lorenzo Pace.


Photographer: Giorgio Benni.

"Tech Gleba" the new issue of an independent editorial project, proposes itself as an additional research space, trying to trigger a dialogue in the peculiarity of images and a visual comparison between different research processes.

The impossibility of failure and fragility. In a historical moment in which we are constantly asked to be "entrepreneurs of ourselves", since the system of culture is not able to correspond to our needs, the possibility of failure, of error, is not conceivable. Instead the right to fail and be fragile is a fundamental part of artistic research.

The fanzine was made thanks to the support of ATWC Immediate Marketing Solutions and NERO Editions and will be sold inside the Barberia to support the programming of the project.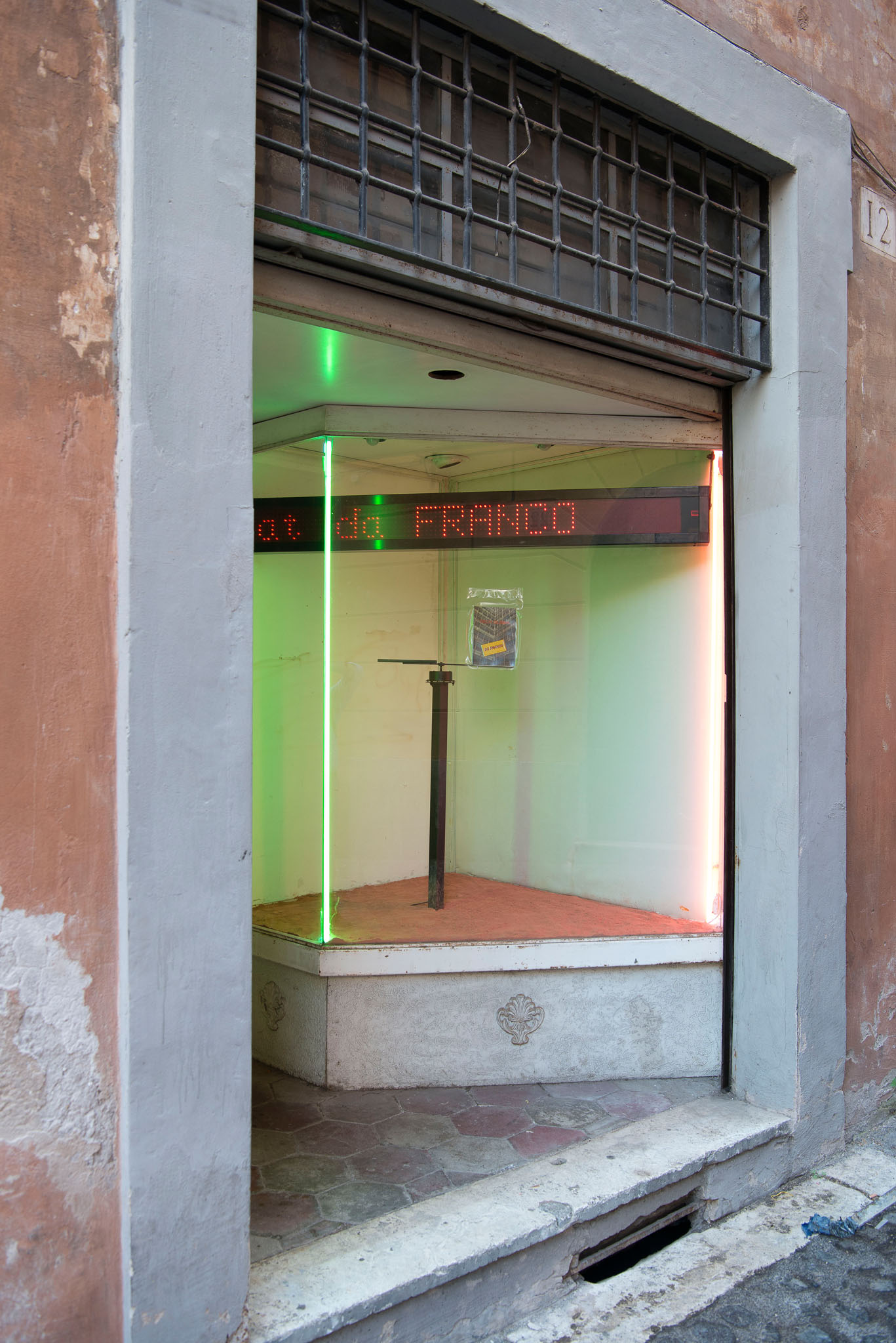 Project carried out during the artist residence of Bocs - Cosenza.
Curated by Alberto Dambruoso and Martedi Critici.
2015

Mappa#2
acrylic, ink and pencil on canvas + sheets of tracing paper,
50x50 cm; 2015

Mappa#1
acrylic, ink and pencil on canvas + sheets of tracing paper,
50x50 cm; 2015

Mappa#3
acrylic, ink and pencil on canvas + sheets of tracing paper,
100x100 cm; 2015

audio installation
The project "Mappe" is the result of a series of interviews to citizens of Cosenza who were asked to tell their life paths.

In addition, they were asked why they had left their hometowns and never gone back. After analysing all interviews, the interviewees' life paths were drawn through black lines by means of Google Maps.
These maps are drawn on tracing papers contrasting the painting lines of interviewees' palm.

A sound installation has been implemented and you may hear their voices while being interviewed.