Group Show - VUNU Gallery Košice, Slovakia.
April 7 - June 7 2020.

Curated by Nikolas Bernath.

Artists: Eladio Aguilera, Christian Bär, Andrea Martinucci, Alex Selmeci.

Photography: Tibor Czitó.


On the first of April, we were about to open the second exhibition at VUNU Gallery this year and hence continue our international program of 2020. We invited four artists from Italy, Spain, Germany and Slovakia to join us.
In the meantime, however, we have all been affected by a new planetary situation on Earth, but only a few of us wanted to admit it. We were looking forward to meeting our guests, to install the exhibition and to celebrate the next opening
on our terrace. The situation has changed rapidly, borders have been closed and flights have been cancelled, though art has already been travelling all around Europe for days, heading towards us. On the planned opening day, the last package arrived. We unpacked everything and now the gallery is full of art. It seems to us that the best thing we can do is to install the exhibition and open the gallery - online.
"The gallery is no longer the primary exhibition space; the Internet is", writes Loney Abrams in her essay titled Flatland. In many ways, in the context of contemporary art galleries and the distribution of contemporary art, we agree. However, those who know our project also know that it is strongly based on physical contact with the viewer. Many of you come to us regularly for every opening or other events. We highly appreciate it and therefore we are very much concerned about the current situation. Of course, there are currently important challenges ahead, especially in relation to health protection. Yet, we believe that there is still much room for culture and art. That is why we will continue with the VUNU project in a digital space if the situation allows us to so.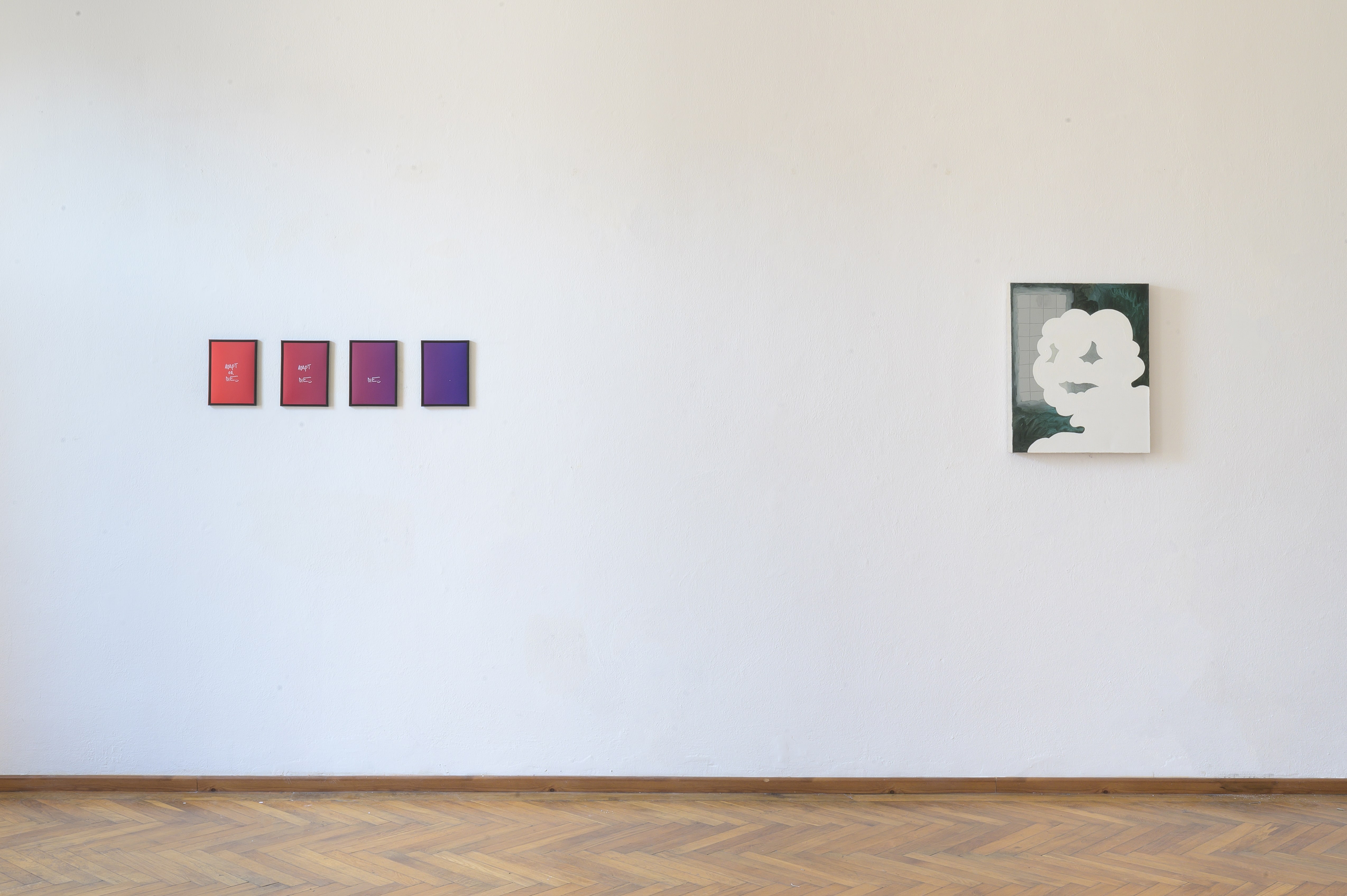 I will give you a taste
of your inner desires
Solo Show - Renata Fabbri Arte Contemporanea, Milan.
May 27th - 20th July 2019.

Curated by Bianca Baroni.

Photography: Bruno Bani.
For this project the artist develops a new series of paintings which explore the idea of "undressing" as a metaphor of the creation and the experience of images.
The artist plays with the suggestive and imaginative cliché of the strip-tease, a practice that shifts the core of the erotic experience from full nudity to the moment of expectation and projection that anticipates it. The timeframes that mark respectively desire and pleasure merge in one dimension dominated by evocation and imagination, a territory in which reality and fantasy are blurred into one another.
In line with such sensitivity Martinucci's artworks seem to allude to the encounter of different bodies. Each image crystallizes a subject suspended between its sensual revelation and the prudish dissimulation of its own physicality. The artist sets the viewer in the position of a voyeur, an observer that is both discrete and curious, and who is only given a taste, a partial vision of the subject.
At the core of every painting we find images selected from those visual fluxes in which we navigate everyday through social media. Images that are often reconfigured and concealed with diverse motives and colour blocks. The intersection of imaginaries and gestures produces layered compositions revealing the initial figure. A subject that maliciously denies itself to the viewer, just like an entity caught in the middle of an "undressing" ritual.
The seductive disclosure of each figure retraces the suggestion of various bodies. Elusive fragments of limbs and faces alternate soft surfaces and objects that allude to the sinuosity of the flesh. The exhibited works seem to be conceived as the visualization of a feeling, images giving body to the fantasy of a tactile experience.
Will Aliens Believe in Me?
Solo Show - Banca Sistema, Milan.
28th May — 20th December 2019.

Curator: Alessandro Azzoni,
Open Care - Servizi per l'Arte.

Organized by: Patrizia Sferrazza,
Communication, Media Relations and Marketing.

Logistics and set up: Arianna Borroni,
Open Care - Servizi per l'Arte.

Photography: Studio Perotti.



Download the catalogue
For the exhibition sponsored by Banca Sistema, Will Aliens Believe in Me?, Andrea Martinucci exhibits work that traces the many years of experimentation behind the jpeg series, as well as never-before-seen works and new pieces that complete a concept show designed specifically for the futuristic building of Palazzo Largo Augusto. Turning the question, "do you believe in aliens?" on its head, the work highlights a focus on the future, a vision that is not afraid to explore the boldest of theories. The themes of good fortune, the challenges posed by future projects, and new visions show Banca Sistema's commitment to supporting business and development, as well as supporting new forms of art.
Do aliens believe in us? Are we inferior to "them" or are we already somehow superior in how we rush towards new challenges? The narrative development of the works spans the floors of Palazzo Largo Augusto, the new headquarters of Banca Sistema, bringing together a common narrative thread in which the figurative images featured across the many canvases are hidden by layers of colour, creating "another" world waiting to be discovered by the viewer.
Human figures and animal forms inhabit the canvases, sometimes covered by a palimpsest of backgrounds similar to tears on surfaces, which hide and reveal symbols that are open to interpretation. Entities and objects seem to chase one another up from the large canvases on floor -2, to the ground floor, and then finally to the 7th floor, where the rooms bear the names of classical deities or planets: for example, Jupiter, symbol of wealth and success, and Mercury, emblematic of communication, ingenuity, invention. There is also Diana - the Moon - representing sentiment and femininity, while Ceres is Demeter, symbol of growth, fertility and abundance.

The title of the exhibition, Will Aliens Believe in Me?, highlights the irony the theme of the discovery of new worlds, the courage to embark on new paths, and the leap towards new visions and the future. The golden wrapper of the fortune cookie becomes emblematic in the piece on display in the Jupiter Room. Above the cookie is a dragon, a Chinese symbol of success and good fortune, while the message found inside is white, giving way to endless possibilities.
A pigeon peeps out, looking out towards the Milan Duomo that stands out in the windows not far from the view of Torre Velasca: the past, present and future united by the human drive to always go upwards, towards new ambitions and worlds waiting to be conquered. The theme of "the challenge" becomes the common thread between the artist's work and Banca Sistema's daily operations.
A Glass Is Not A Reference
for An Amount
Group Show - In De Ruimte Fransevaart 28, 9050 Gent, België.
March 1st - April 28th 2019.

Curated by Van der Borght Bjornus.

Artists: Andrea Martinucci (IT) Baron Lanteigne (CAN)
Benny Van den Meulengracht-Vrancx (BE) Bora Akinciturk (TUR/UK) Botond Keresztesi (ROM Gregory Blunt (CAN/GR) Core.Pan (FR) DYAD ENGINE (BE) Fred Cosci (IT) Eva L'Hoest (BE) Marian Luft (GER Michele Gabriele (IT) Naomi Gilon (BE) Ruby Gloom (CHIN) x Roga (MEX Stine Deja (UK) Thomas Hamen (SE) Van der Borght Bjornus (BE).


The title refers to the expression "the glass is half full/half empty" but has a very unpolarizing connotation. It instead sheds light on what causes a certain situation in stead of just naming its existence and thus provoking alternative progressive thinking and situation related problem solving.
The artists have been carefully selected and find their foothold in Post-Internet art but definitely are recontemplating its purpose and esthetics. With this show you will find contemporary and prominent young and established artists of which some shown for the first time in Belgium.
"A Glass Is Not A Reference For An Amount" is a concept exhibition with a very contemporary feel including modern techniques like painting, video and installations revisited in a contemporary context together with new media like 3d generative art and industrial assemblages.
Solo Show - Dimora Artica, Milan.
November 14th - 15th December 2018.

Curated by Dimora Artica.
Text by Claudia Contu.

In partnership with Renata Fabbri Arte Contemporanea.
Project Assistant: Vincent Noir.

Photographs: Andrea Cenetiempo.



Download the catalogue

― Nothing unknown is knowable.
Don't you think it's depressing?" ―

Tony Kushner, Millennium Approaches

(...) For Glory Black Hole, the artist has created a setting that stays in between ordinary life and virtual reality. The canvasses from the .jpeg series inhabit Dimora Artica's groud floor with a curtain displaying "Bliss" (Windows XP's most famous wallpaper), chosen by Microsoft among a number of stock images probably because of its inviting qualities, which would hopefully produce a sense of wellbeing in desk-based employees. If this sense of wellbeing seems artificial and perhaps unachievable, on the contrary the veil in Dimora Artica's space invites you to overcome the hill and reach out for new images, new narratives and new horizons beyond it.
Evoking Arthur Schopenhauer's veil of Maya, the work suggests that only by overcoming an initial state of blindness, which is given by the novelty of the experience you're gathering, you will be able to enter a world where nobody can say that A equals A alone and is different from B, because everything will be just like a dream. To a certain extent, no hypothesised narration will be satisfying enough to fully understand objects, people, the situations they enable or the universe itself. On the first level of the gallery, the misappropriation of one of the most famous maxims of the Western philosophical tradition plays with this potential of being mistaken and warns about the presumption of assessed narratives that serve to establish knowledge systems and beliefs from arbitrary points of view. An epistemological crisis, as I said at the beginning.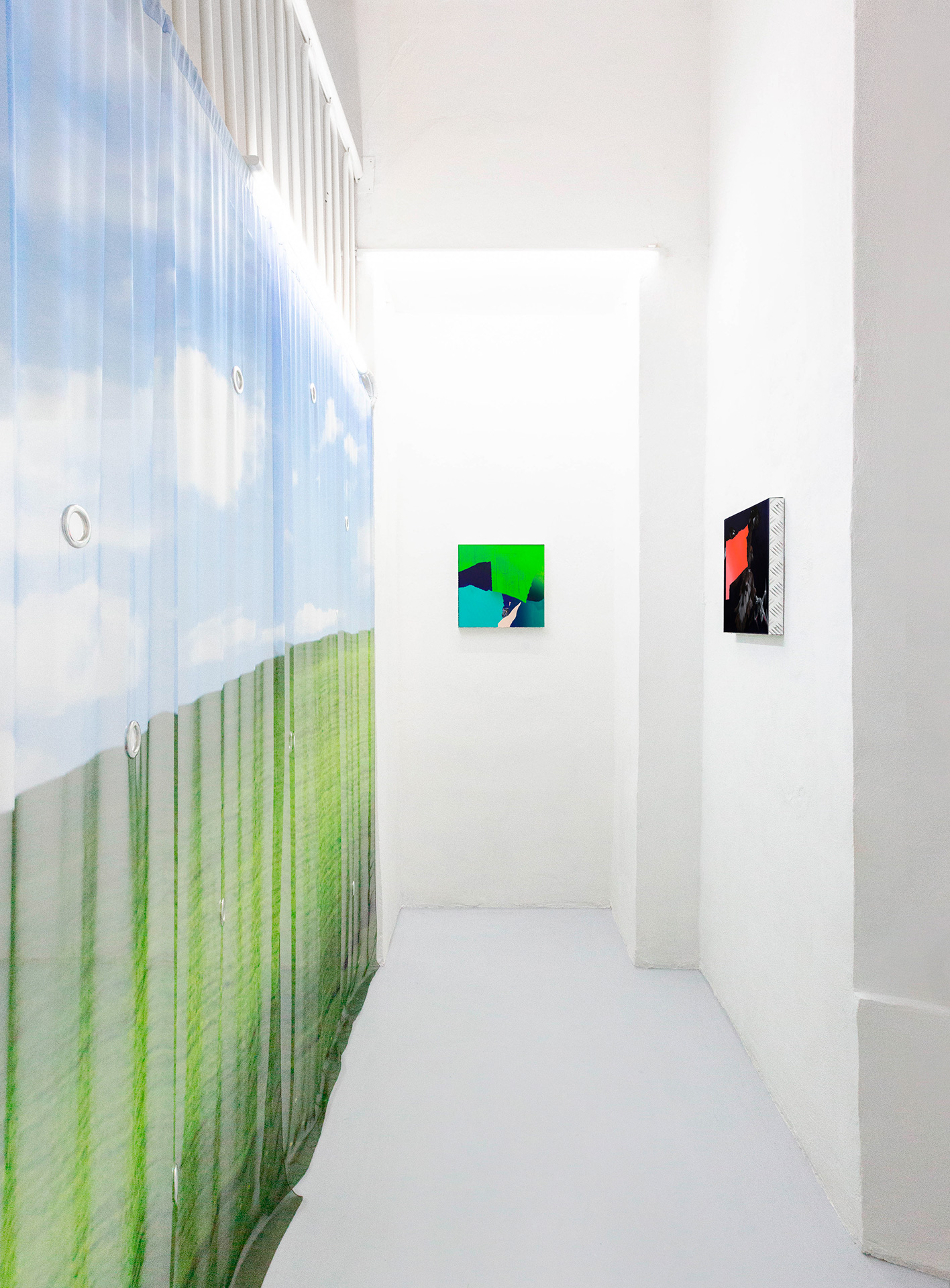 Everytime you switch me off,
I die. A little.
Photographs: Like a Little Disaster.
OFF
More beautiful than the day, peaceful by all means, the star-studded, pensive and soft night is a better model of knowledge than the sun-struck, cruel, exclusive, eye-hurting, ideologically-prone and opinion-ridden light of day.
I live in a fluid space that extends the finite limits of traditional metaphysics, traceable to the anthropocentric sight and light, that is, linked to the space-time dimension proper to human sensoriality. I free myself from the anthropological structure anchored to the "vision", to the truth of evidence, and lose myself in the trans-human horizon, revealed as trans-optical, trans-luminic, trans-spatial, trans-temporal….
My universe refers to what is widespread, not localizable or definable, to what is not shown, to what is stingy with signs, expressing itself, if it does, in an ambiguous and transversal way.
Light blinds me and prevents me from seeing. It is the shadows to give me the perception of depth, to make the sensible world endowed with density and concreteness. I need shadows to leave the opacity that is proper to the object. I need shadows to escape from the blinding light of a flattened universe.
I was in the center of an immense grotto. The ground was covered with fine sand bespangled with gold. The vault was as high as that of a Gothic cathedral, and stretched away out of sight into the distant darkness. The walls were covered with stalactites of varied hue and wondrous richness … The decomposition of the luminous rays by the thousands of prisms, the showers of brilliancy that flashed and flowed from every side, produced the most astonishing combination of light and color that had ever dazzled the eyes of man.
ON
– Where does the flame of a candle go when the candle is turned off? Where does the light go? Where does the past go?
Firstly I realized that I am not immobile at the center of the universe. Then that I am not distinguished and different from any other sentient and non-sentient being. That I am far from being entirely transparent to myself. Now, digital light tells me that I'm not a separate agent, but an informatic organism sharing with others a global environment fundamentally made up of information: the luminous Infosphere.
I observe myself observing myself in the communicative production; I see myself with the eyes of a possible audience; I glimpse myself in the luminous traces I produce online. I observe the light and light observes me and captures me, I am subjected to it.
I risk losing myself in the labyrinthic network of changeable and temporary connections, the fragmentation of the perception of myself corresponds to a multiplicity of incoherent and disconnected relations. These intermittences push me in a myriad of directions, leading me to play a quantity of roles such as to make disappear my self-conciousness.
– Does the self completely saturated by digital light become a non-self?
In the luminous technosphere there is the possibility not yet present in the real world. Each manifestation in physical reality must have a luminous representation. All changes in physical nature are consequence of digital information processes; nature has ended up in digital light.
I live in a place where autonomous intelligences multiply themself, where body-machines generate images fed by autonomous information that become new forms of life, where millions of environments cohabit in the same physical space, creating a chain of parallel worlds. The image becomes dematerialized, while I merge myself with a luminous medium that questions the notions of authorship, corporeity.
Identity is overloaded by the plurality of my iconic projections, falling into a biological imbalance where an informative proliferation develops, a background light characterizes the identity itself, to the point of confusing it with the traces of other actors distributed in the network.
Light allows me to enter an area with weak borders, subject to continuous redefinition, marked by multiple belongingness and osmosis between center and border. Through light I instantly propagate myself in every direction, I multiply myself in an endless process, I extend myself in every direction.
I am surrounded by luminous flares that amplify my ability to look into matter and through space. I know, I perceive, I meet and communicate with others and with the environment through lights-prosthesis making body with my body, quickly dissimulating one's own otherness.
I am present-absent. Absent in the presence. I am here and there at the same time, I am on and off, my body expands itself, turns itself, extends itself, "naturally". I am in the light of a transpersonal experience that allows me to look at the interconnection of everything, the permeability and instability of boundaries, the lack of distinction between the part and the whole, the foreground and the background, the context and the content.
I move in a landscape where the flesh no longer needs redemption because it has already become a body of light.

PRAISE BE TO THE FLAWLESS, ALL-PERVASIVE ILLUMINATION OF THE GREAT MUDRA. TURN OVER TO ME THE JEWEL, LOTUS AND RADIANT LIGHT.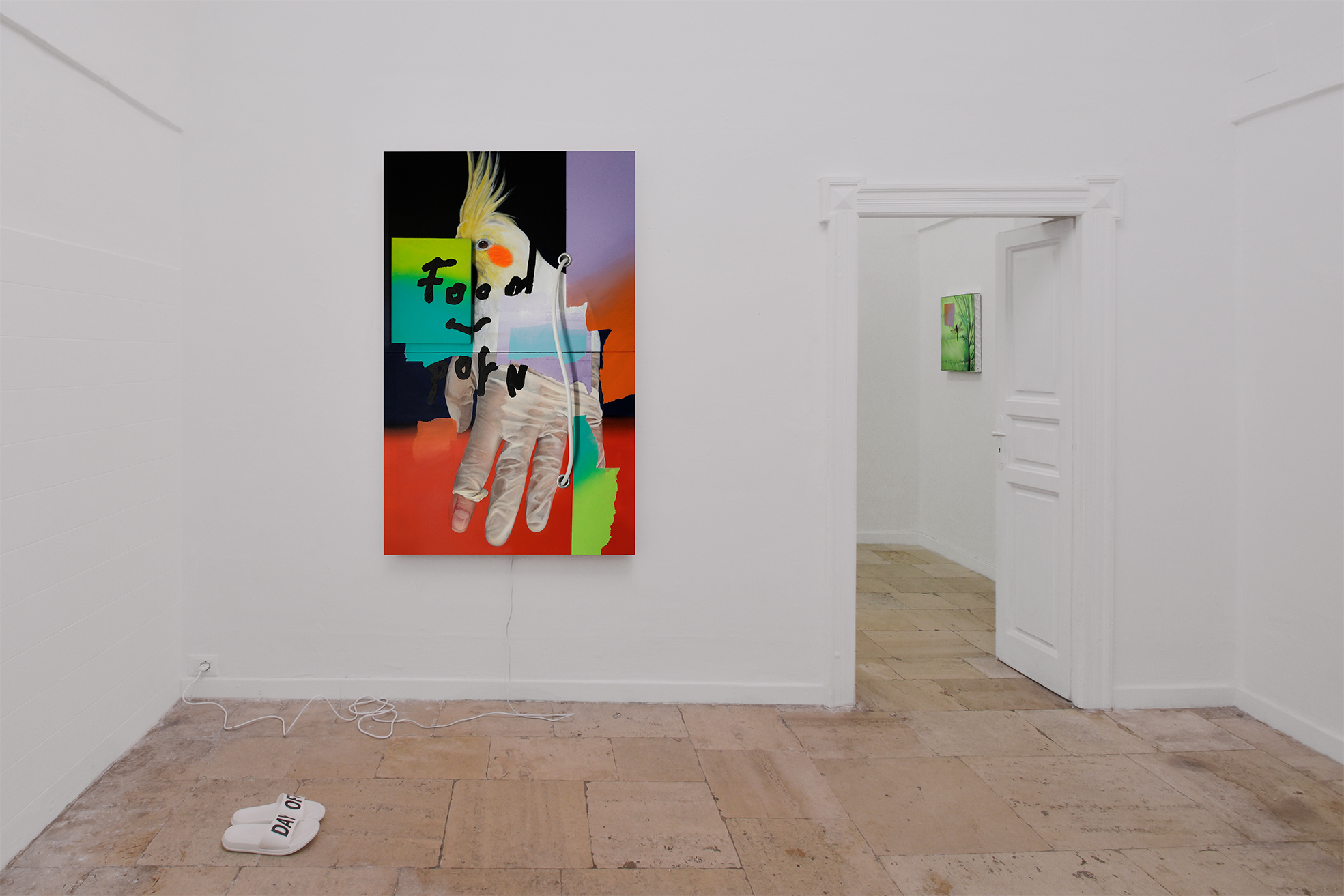 Group Show - Senza Appuntamento #2.
Franco Candela - Rome.

19thApril / 20th May 2018

Curated by Vasco Forconi.

Visiting curator: Laura Amann,
Significant Other, Vienna

Organised by Andrea Polichetti, Niccolò De Napoli and Silvio Saccà.

With the contribution of NERO editions,
Untitled Association,
Monitor Gallery Rome,
Operativa Arte Contemporanea, Rome.

Artists: Michele Gabriele, Emiliano Maggi, Andrea Martinucci, Caterina Morigi e Lorenzo Pace.



Photographs: Giorgio Benni.
"Senza Appuntamento" is a dynamic and ironic response to the condition of radical economic and existential precariousness which multiple generations of artists, curators and workers in the field of culture are facing. Thanks to its light collective and horizontal structure, the project is designed to open a physical but most of all a relational space for artists where they can discuss and compare their research practices, giving at the same time to the public an opportunity to know more about the work done by young artists.
The project constitutes an emerging and open platform which will overtime tell about what is going on in the city of Rome while developing a dialogue with other active independent entities in Italy and Europe. On this occasion, Laura Amann, founder of the space Significant Other in Vienna will be invited to come to Rome as a visiting curator. The uniqueness of the project also resides in the incredible nature of the space that Franco Candela, owner of the Barberia, granted with generosity and enthusiasm. It is a space suspended in time, a space of an absolute social heterogeneity but most of all, it is a space for work.
The space offers a real comparison between two completely different ways of working: there is the artist's work and the labour that take place in the Barberia on a daily basis. This makes room for broader a reflection of which the exhibition represents the first tangible representation.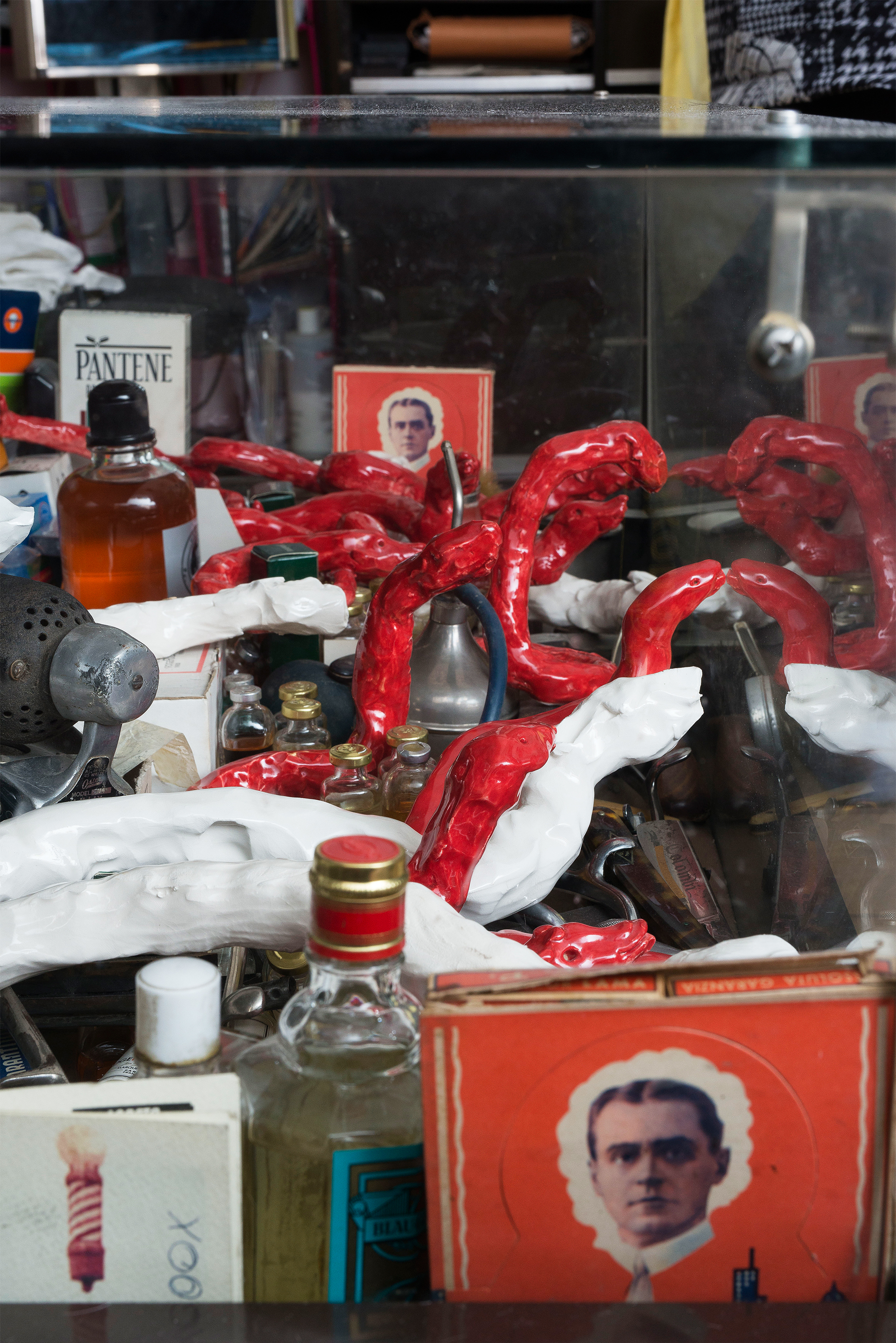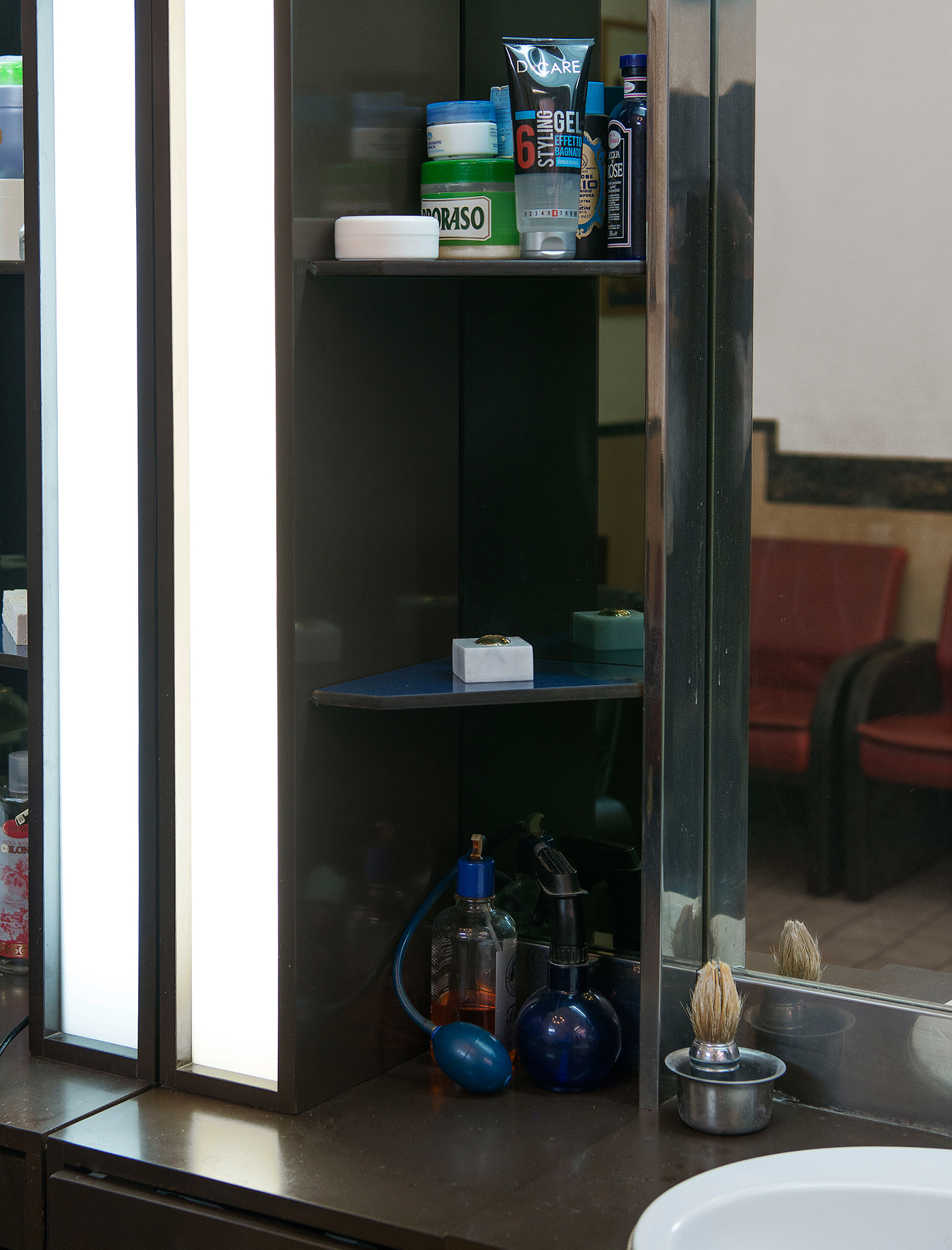 Solo Show - THE COURT
LAW FIRM DI PIETRO - LUCCHI, Pescara.
December 16th - February 25th

Voyage au bout de la nuit
Curated by Maurizio Vicerè - Vice.

Artists: Cosimo Casoni, Andrea Martinucci, Marco Strappato.
Photographs: Pierluigi Fabrizio.
(...) For this first edition we have tried to develop a meeting between the artists Casoni, Martinucci, Strappato and the fundamental work Voyage au bout de la nuit - Journey to the end of the night - by author Louis Ferdinand Celine. It will then start from the very title of the novel as an exclusive material of reflection and left to the free interpretation of artists. It is no coincidence that the three artists have been chosen to work with convergence points and conceptual proximity to amplify the aura of Celiniana's work, unique in its genre and inspiration for most modern and contemporary literature.
The Journey and the Night are therefore the edges that limit the presence of a whole where chaos occurs through the impossibility of a linear path since, while it is true that time moves in one direction, the same cannot be said of man who through two infinite - the inner one and the one just out of the body - keep alive the unconsciousness of moving with freedom, singular ways and reactions. The same applies to Celine's "Travel" crossed by the singular prophetic cynicism of Ferdinand Bardamu anti-hero who through the author finds himself absorbed by a part of the world that he will never understand.
The only glimmer, the only certainty, the only morsel of salvation and sometimes beauty is the night, she alone accompanies him on a journey to the limits of human existence.
Group Show - Museo Archeologico e d'arte
della Maremma, Grosseto.
26th August 2017 - 26th January 2018

curated by Lapo Simeoni.


Artist: Alighiero Boetti | Broomberg & Chanarin | Paolo Bottarelli | Sandro del Pistoia | Gabriele De Santis | Rachel De Joode | Cleo Fariselli | Francesca Ferreri | Eloise Ghioni | Jason Gomez | Luca Grechi | Helena Hladilová | Francesco Irnem | Michael Johansson | Felix Kiessling | Andrea Martinucci | Vincenzo Marsiglia | Martina Marlini | Francesco Minucci | Paulo Nimer Pjota | Nicola Pecoraro | Pennacchio Argentato | Massimiliano Pelletti | Luca Pozzi | Przemek Pyszczek | Moira Ricci | Mustafa Sabbagh | Nicola Samorí | Titus Schade | Namsal Siedeckli | Lapo Simeoni | Bosco Sodi | Santiago Taccetti | Lamberto Teotino | Philip Topolovac | Leonardo Ulian | Aaron Van Erp + Antonio Barberi | Cosimo Casoni | Gabriele Dini | Duepernove | Michele Montanaro | Gerald Morder | Aischa Gianna Müller
Photographs: Carlo Bonazza.
"Etruscans? Etruscans never existed. You may ask where they came from; if they came from the continent, from Minor Asia or America. You also make hypothesis that they have always been here. So, you are all both right and wrong, you are considering an issue that doesn't have sense. Would it make sense asking where Piedmontes, Tuscans or Milaneses come from?"
Luciano Bianciardi, Il lavoro culturale, 1957

Etruscans used to transform themselves and this is why they arrived until us. Why talking about time in contemporary art if new technologies that are indulging artists in their productive time are becoming part of a mechanism that was already obsolete in its century, or even in the decade next to the creation of the work of art itself? Who are the artists that succeeded in staying in time and holding a dialogue with it? Does the development of the past by facing up the future make sense? The exhibition FOREVER NEVER COMES will deal with these themes by creating a new multi-temporal path about the meaning of contemporary art that needs to dialog with the artworks and the archaeological finding of the Archaeological Museum of Grosseto and the Archeological Park of Roselle.
The artists selected, both emergent and established, will be chosen on a national and international level and they'll need to compare themselves with the symbology of the past and realize a connection between space, time and art using the fortune offered by the Archaeological Museum as an inspiration. Every artist will make an artwork that can be an expositive project or an installation, focused on one or more temporal sections among PAST, PRESENT, FUTURE. There will be also the possibility to include some of these works in the boxes of the Archaeological Museum in order to create a relation between different historical periods.

Group Show - FuturDome, Milan - OUTER SPACE
March, 27th - April, 15th (Event for Miart 2017)

Organized by: Ginevra Bria and Atto Belloli Ardessi
Curated by Ultrastudio.


Artist: BENOIT MENARD, OLIVER PAUK, ANDREA MARTINUCCI, ZSOFIA KERESZTES, DOMINIK, SEBASTIAN WICKEROTH, RAPHAEL LERAY, SYNCHRODOGS.
Photographs: Ivan Divanto.
"Look at this cochere door! Dwarf! I continued: it has two faces. Two paths here agree: no one has ever paths to the end… This long way to the door and back: it lasts an eternity. And this long way out the door and forward, that is another eternity".
(Thus spoke Zarathustra. Friedrich Nietzsche)

Atlante_
Astral date unknowed_
I feel lost_
Scanning_
Traveling continuously for boundless space is possible. Visit exotic worlds and parallel universes, know the curves of the time, the movements of Sioux endless dances. Travel distances between sidereal signs of present stems from time immemorial it is equally possible. Crossing the left doors of access to satellites that revolve around our shamans perpetual consciences. Admire the hanging gardens of Babylon and then sit down to talk with Destiny and find him obedient it is finally possible. A new world is showing in front of my eyes. This time it's for sure the world from which I left blank. I can hardly recognize it but I feel like familiar. Yet so far, trillions of galaxies far, we have traveled desirous of knowledge for decades whose account is lost. Now I'm here, and I find the endless return. It's been thousands of years and things appear as a new but faded, I forced a door and I find this present still active on my most peripheral and archaic hemisphere of my brain. I'm having a deja vu?
Scanning_
"This I've seen ... I know that person ... I know how it works ... It was so long that it felt not to mention ...". Amarcord. And yet it all seems so rarefied, impalpable, away: it seems to attend the tangibility of echo. Redundancy signals. An holographic memory, fiction. Simulacra of an upcoming reality.
Scanning_
If it were not for my mortal flesh I would say to be in front of what we have tried to find continuously. The Phoenix.
I rediscover a new feeling, an awakening from millennial slumber which start weaned. I'm touching this world. It's the first time and it seems in all a first time. I feel to be entered in connection with this world, I feel a gentle pressure on my meat, everywhere the same pressure. I feel the cold is just a reverse transfer to a feeling if intense heat. I breathe deeply the smell of an old radio. I close my eyes. My robe melts, becomes the first fiber, fragments then finally dust all around. I imagine. On the face drawing a smile. Funeral house.
I open my eyes. I try to find myself and I am not.
I arrived.
I'm feeling lost.
Love you all.
Adamo.
Group Show - Basement, Milan
14.03.17 – 19.03.17 (During Studi Festival).


Artist: Aggetelek Duo, Annabelle Arlie, Andrea Martinucci,
Billy Lidh, Giuseppe Mastromatteo, Maurizio Vicerè – Vice.


Photograph: Irene Gittarelli.
Partner: Scandale Project.
"Long live the Theater,
where it's all fake but nothing is false,
and this is true.
And you know from before, if is dyed Othello,
or he's black …
No actor wants you believe,
pushing hard intonation,
it's all true what you see.
He wants to show that it is a fiction.
If you have to die on stage
it is true that does not really die otherwise,
who would die so well?
Understand by yourself, really:
If he really dies
might not die every night!"