Turbomondi
(2020 - ongoing)

(ENG)

Turbomondi
imagines suspended worlds. Creatures in perpetual search of their integrity and constantly evolving inhabit these worlds. No being remains equal to himself. They break down and rearrange themselves, according to superior forces.
What am I? What have I been? What will I become?
Turbomondi invites to reshape ideas about what it means to exist, what Earth is, and what society is. The work reminds the method of
transcendental creative meditation
. Every character, scene, and moment generates from the subconscious. The subconscious allows to draw from the depths of one's imagination to create new landscapes, which redefine the actual structure of reality.

(ITA)

In
Turbomondi
vengono immaginati mondi sospesi, popolati da creature alla perpetua ricerca della loro integrità e in continua evoluzione tra di loro. Nessun essere resta mai uguale a sé stesso ma si scompone e ricompone, secondo forze superiori.
Cosa sono? Cosa sono stato? Cosa diventerò?
Turbomondi ci invita a riconsiderare le idee che ci siamo fatti su cosa significa esistere, su cosa sia la Terra, su cosa sia la società. Il lavoro richiama il metodo della "
meditazione creativa trascendentale
". Ogni personaggio, scena e situazione, viene generata dall'inconscio che permette di attingere dal profondo della propria immaginazione per creare nuovi panorami che vanno a ridefinire la struttura effettiva del reale.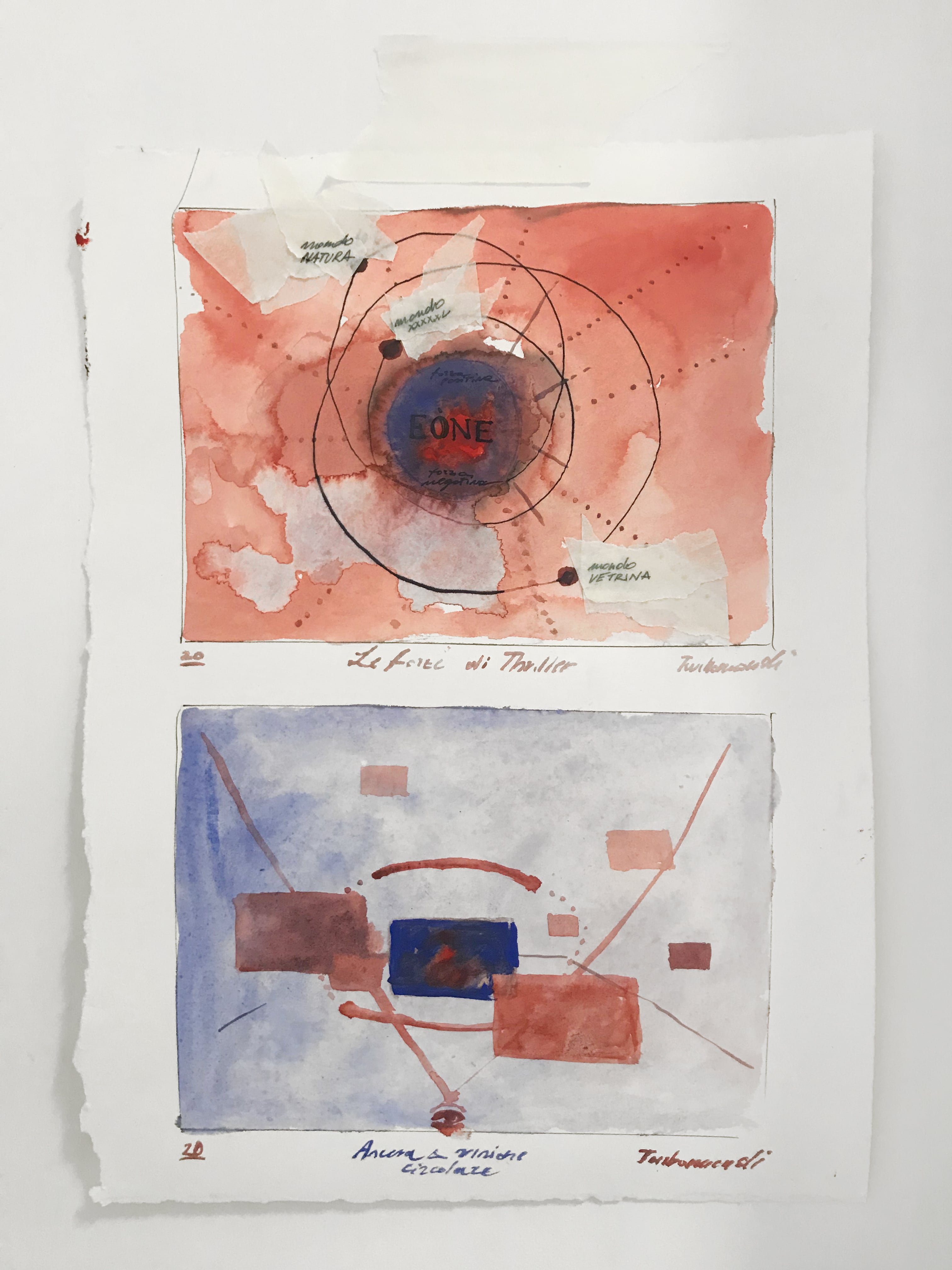 Studio for Turbomondi (Cosmografia d'Approdo), 2020.
Watercolor on cardboard, 30x40cm. Courtesy the artist.
©Andrea Martinucci.