Open Script

Solo Show/Residence Show - IUNO, Rome, IT
3.10.2022 - 8.10.2022

Curated by
Lisa Andreani
Maria Vittoria Di Sabatino
Cecilia Canziani
Giulia Gaibisso
Ilaria Gianni

Text by
Giulia Gaibisso

Special Thanks
Maria Alicata
Adrianne Drake
Roberto Scalmana
Angelica Bollettinari
Giulia Caruso

Support by
AMACI - Giornata del Contemporaneo
Open Script is a moment of recollection of what Andrea Martinucci elaborated and explored as part of his residency period at IUNO. At the same time, it is an overview of his research dedicated to the emotional value of the object, the fragmentary character of memory, and the need and impossibility of a systematic archiving of the past. Through videos, paintings and documents, the presentation aims to provide an account of the gradual rupture of every linguistic and expository code implemented by Martinucci through the use of a constant overlapping of temporal and expressive lines.

The works in the series Open Script are comparable to small disassembled books, only partially readable, conceived as ideal extensions of IUNO's library. Made from scraps of previously painted canvases, the works seem to materialize that partiality and arbitrariness inherent in memories: the personal and collective stories pinned by the artist on their surface are the object of a voluntary omission, enacted through folds on the fabric and layers of color. Turbomondi - Material against the fear and longing for loss, the archive of the project started by Martinucci in 2020 and conceived as a film script in continuous becoming that records voices, impressions, traces of existence, went through a translation processes by the artist and curators Lisa Andreani and Maria Vittoria Di Sabatino, together with Ilaria Gianni and Cecilia Canziani over the course of the residency. The work attempted to safeguard sounds and omissions from the text, which are considered an integral part of the particular writing process that characterizes the project. Finally, the artist proff of Turbomondi (Melody) is a true transposition into movement of the universe contained in the script, as well as the most complete expression of the animistic vision that seems to inform all of Martinucci's artistic production.

The fragmentary nature of the compositions and languages, the impossibility of an integral reading of words and images, contributes to the generation of a sense of precariousness and uncertainty common to every human manifestation, also expressed at this juncture through the desired short duration of the exhibition.


Le cose che accadono (Things that happen)

Group Show - Palazzo Montevecchio, Fano, IT
19.08.2022 - 10.09.2022

Curated by
Caterina Angelucci
Luca Zuccala
Andrea Tinterri

Text by
Andrea Tinterri

Artists:
Nicolò Cecchella
Caterina Erika Shanta
Andrea Martinucci
Davide Serpetti

Photographers:
Paolo Semprucci and Giacomo Grandi
(...) Questa tensione antitetica è evidente, ad esempio, nell'esperienza progettuale di Martinucci che per l'occasione inaugura la ricerca Le Suites una discesa nei piani più profondi della mia interiorità per accedere alle stanze più preziose fatte di desideri, emozioni e paure che chiedono di essere abitate con un'esperienza diversa. Le Suites sono un'immersione dentro i vari stati della visione e la fredda consapevolezza di un tempo senza scansioni. Le Suites sono le emersioni di episodi personali che vengono continuamente trattati, sovrascritti, riproposti, affinché la forma e le modalità di espressione non si esauriscano in un'unica narrazione ma in narrazioni molteplici in grado di abbracciare la mente collettiva.

Martinucci pone come elemento centrale della progettualità marchigiana una grande tela (208 cm x 345 cm) in cui le stratificazioni pittoriche diventano metafora, appropriazione di ricordi, lacerazioni che si palesano in un atto maieutico. Ma tale processo, seppur confidenziale, ha bisogno di essere ritualizzato e reso collettivo. Ecco che piega la tela riponendola in una valigia con cui cammina per la città, come se la storia di quest'ultimo potesse aderire all'opera in una sorta di lenta osmosi.
E contemporaneamente, con gli altri membri della residenza, immerge la tela in mare: un battesimo in presenza di pochi testimoni. (...)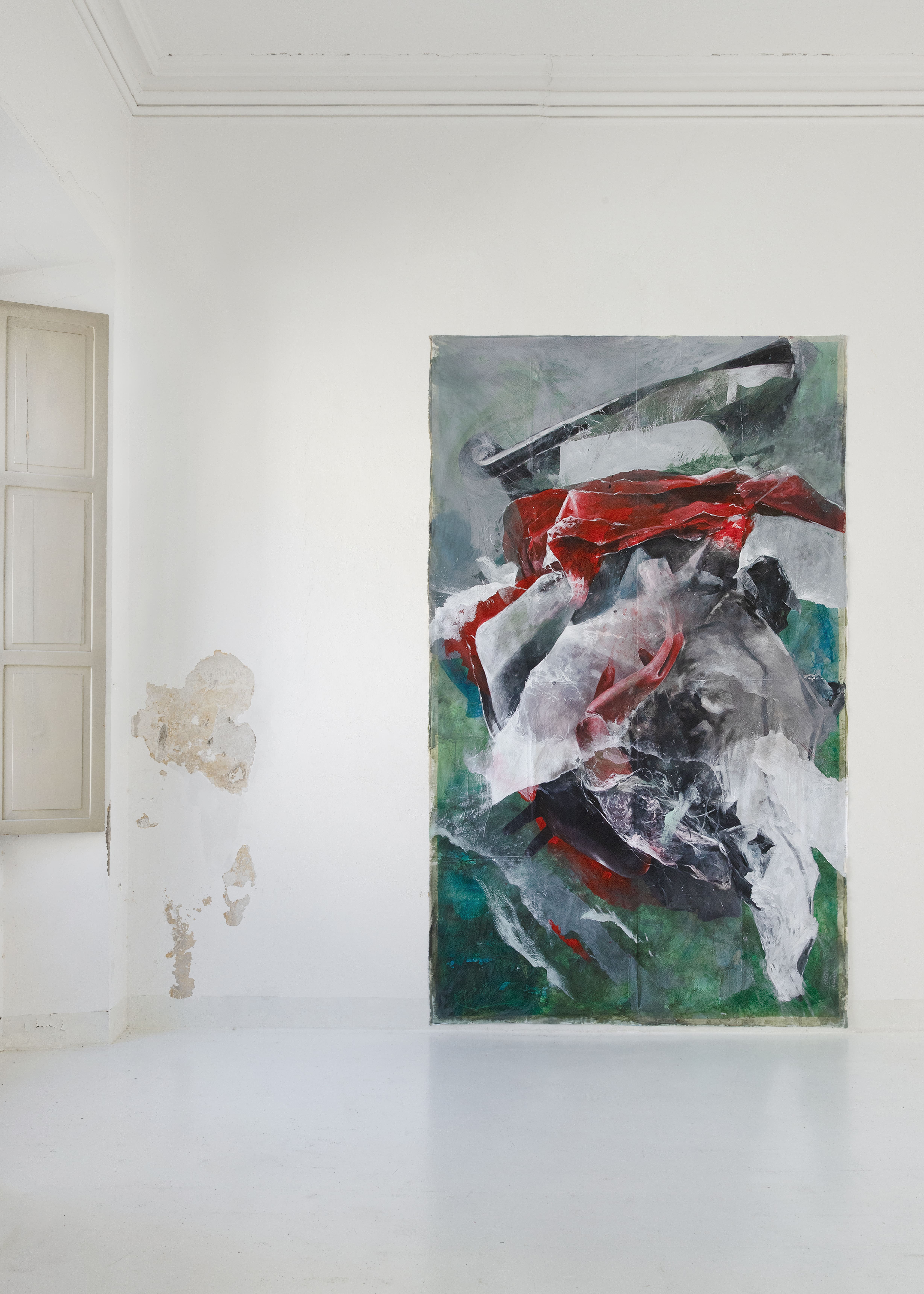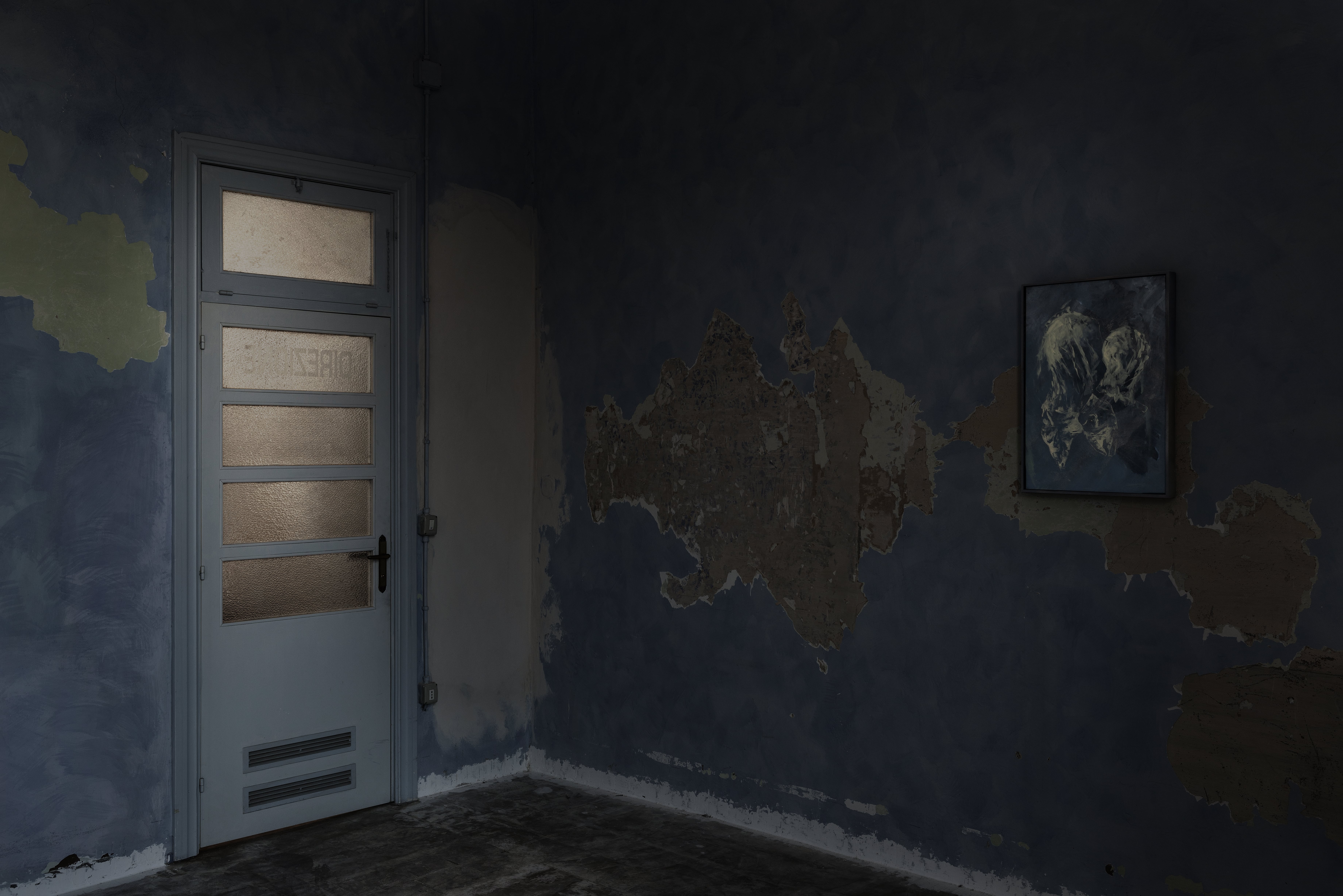 CAREZZE (CARESSES)

Solo Show - Renata Fabbri arte contemporanea, Milan, IT
7.04.2022 - 28.05.2022
Text by
Beatrice Favaretto,
Damiano Gullì,
Manuela Pacella.

With a letter by
Andrea Martinucci

Translations
Maria Vittoria Di Sabatino

Graphic Design
Ilaria Pittassi
Photography
Alberto Fanelli
On show, a series of paintings produced over the past two years, which express the kindness and the tenacity of pictorial gesture through the research and the reconstruction of the caress.

The artist's research expresses itself through the creation of assemblies, lacerations and overlapping able to active imaginary architectures and transversal narrations. Three years after his last show, Martinucci returns to the gallery with a corpus of works realized around the figure of an oleander, a seductive and at the same time toxic plant, which Martinucci chooses as a metaphor of the context in which he lives and works. Attracted by the ambivalent nature of this tree, Martinucci tests his pictorial practice through the obsessive and stubborn transposition of its leaves. The repetition of the same element generates a visual stratification of links on the pictorial surface, in which the natural element gradually loses its appearance blending with other objects, images and figures that emerge as free associations. Rubber gloves, horses, chairs, rings, hair clips: fragments that interrupt the linearity of the vision projecting us into surreal and at times dystopian realities.
As the title suggests – a reference to the sensitivity of the pictorial gesture – the works displayed at Renata Fabbri's gallery seem to question a world based on the preeminence of reason, welcoming, contrarily, everything that is unknown, fortuitous and excluded. An act of kindness that happens when we break the fine line that separates us from the world and we approach other forms of sociality made up of caring and listening: primary needs of our daily life. In this way, the pictorial medium is not merely expression for Martinucci, rather a tool of struggle, as proof of all those missing acts that still need to be carried out.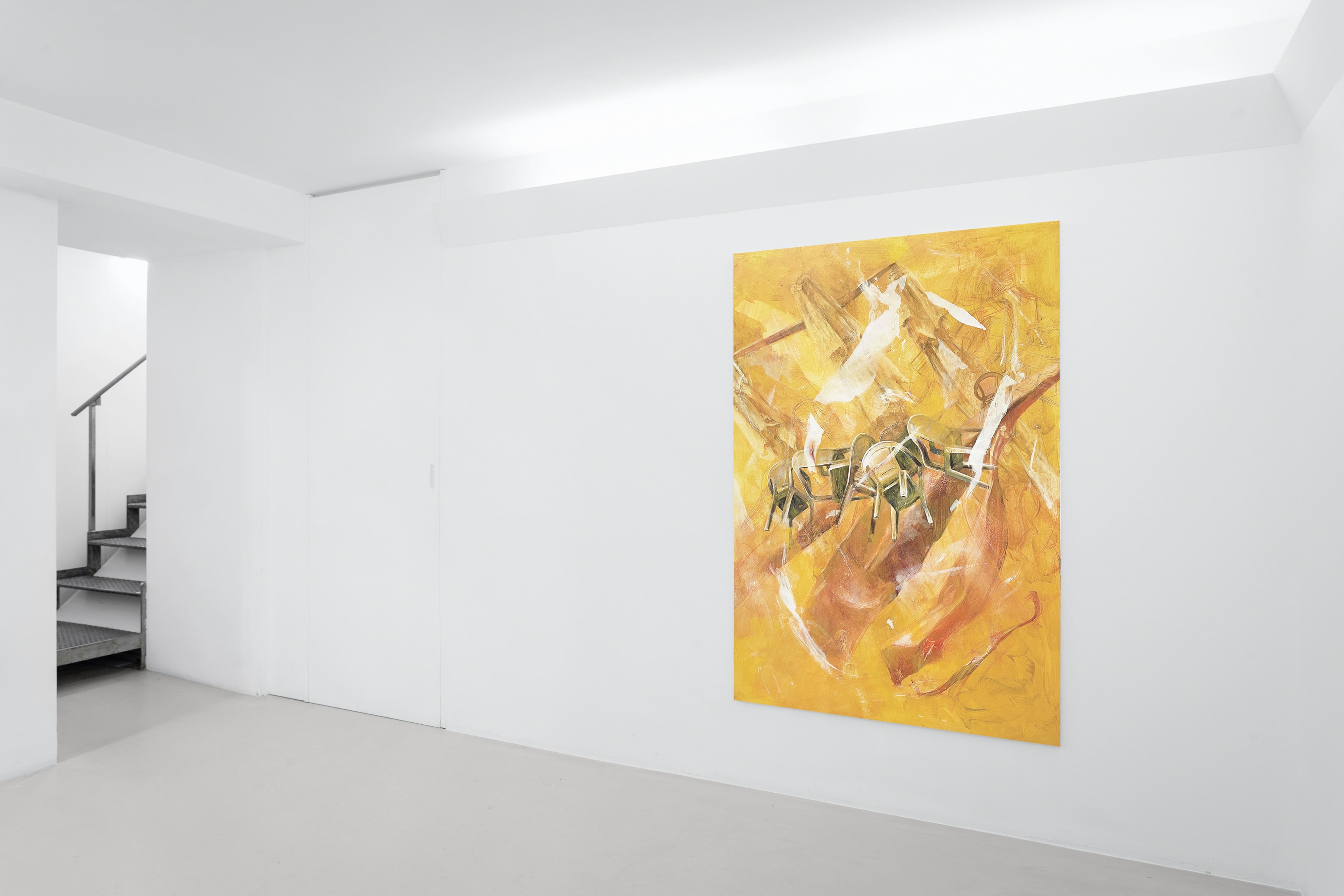 MELODIA

Solo Show - ZETA Contemporary Art Center, Tirana, AL
19.10.2021 - 20.11.2021

Organized by
Alessandra Bertini Malgarini
Italian Cultural Institutes of Tirana

With the support of:
MAECI-DGSP
MiC-DGCC
Istituto Centrale per la Grafica, Rome

Text by
Damiano Gullì

Translate by
Maria Vittoria Di Sabatino

Photography
Stefano Romano
After simple words, guttural or preguttural sounds, we see an increasingly systematic structuring and articulation of complete words, sentences, periods, in a whirlwind steeped in paratassions, hyporates, and figures of speech. Even different accents, modulations and intonations.

All this, all this self-awareness can cause freedom of thought, freedom of expression, the desire to demonstrate, to make one's own sound frequency perceived. In the most serious cases you may find yourself even to be charming, bewitching, powerful, charismatic or, even worse, to shout at the top of a poignant melody dedicated to the loved persona.

Love, after all.

If we think that in the earthly dictionary the definition of "word" - well, yes, we are talking about it - is described as follows: [The word] corresponds to a "picture of a notion or an action" (love, to love) in the case of 'main' words,or to a "relationship" in the case of 'accessory' words (often, during, though).

Love, in short, is a "principal" word compared to "although".

Often, however, we love.
Although we love.

In the beginning was the Word.
And in the end?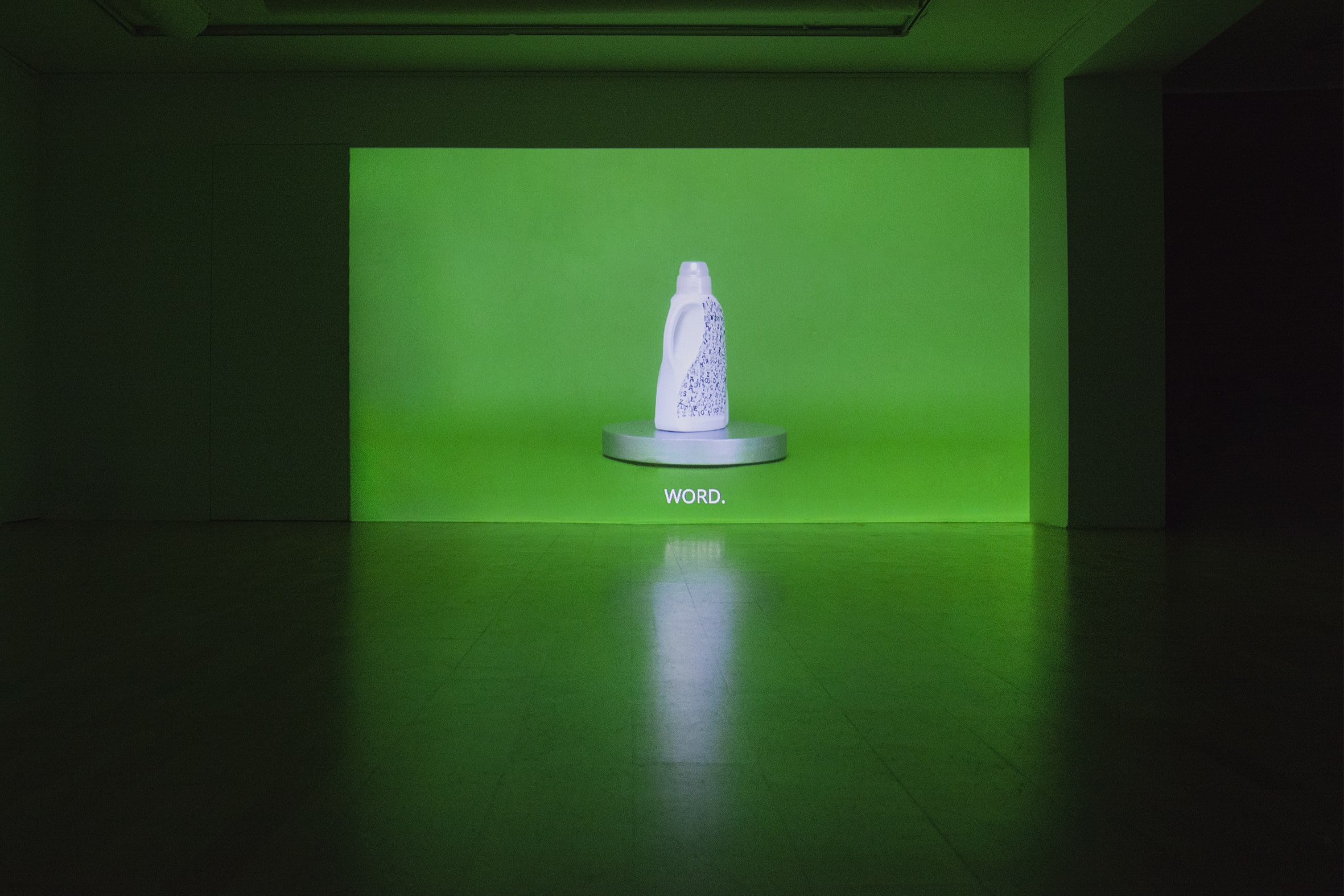 Non dice reil lese crita abboce

Group Show - Catacombe Commodilla, Rome, IT
December 2020 - Permanent installation.

Organised by
_x_x_x_.ch

Curated by
Basile Dinbergs

In dialogue with
Yoan mudry | Roxane bovet | Pietro Librizzi | Maziar Firouzi | Andrea Martinucci | Diego Gualandris | Gaia Di Lorenzo | Matteo Binci | Anouk Chambaz | Giorgia Garzilli | Sirai Bucarelli | Matthieu Mevel | Arianna Del Grosso | Isabella Picchi | Caterina Picchi | Antonio Palmieri | Basile Dinbergs | Diletta Bellotti | Meloe Gennai

Text by
Geraldine Tedder



(...) Let's talk about gestures, then, shall we. A gesture – of the hands, the face, the body? A gesture as in a signal towards another, an attempt to connect, that move which is communication, an abstract, more visceral, perhaps even more primal way of seeing if you're on the same page with someone. A gesture as in an accompaniment to the spoken or written word, that usually supports what you're saying, but might also give you away. A gesture, more conceptually, as in how an idea is carried out. A gesture as in something that is in the offing, then vanishes – being momentary – but leaves traces, in an object, in an exhibition, in a text.

They were in a studio in Esquilino, standing in the corner of the room drinking a beer. She told him how she understood the spiral to be a shape that could draw energies into its centre, condensing and intensify them. With her finger, she drew the figure in the air, spiraling inwards. He told her about his fascination for snails, not noticing that he was mirroring her, repeatedly drawing spirals, outwards, on the sleeve of his coat. They speculated on the metaphysical importance of this shape for a while, until the subject faded out and into another.

Though the pieces are, quite literally, set in stone, they are more tokens of friendship than where content culminates and should appear fixed, markers of memory, or props in a new kind of ritual in which we commemorate encounters. Made by an engraver, they already hold a layer of interpretation that is out of the control of the maker. What links these chains of interdependence – between host and invited, between newcomers and locals, between passers-by of the wall they are placed on – are the objects. They act as mediators, play out certain moments that have passed and bring with them repercussions. They transpire to be intention, the intention of testifying to social life.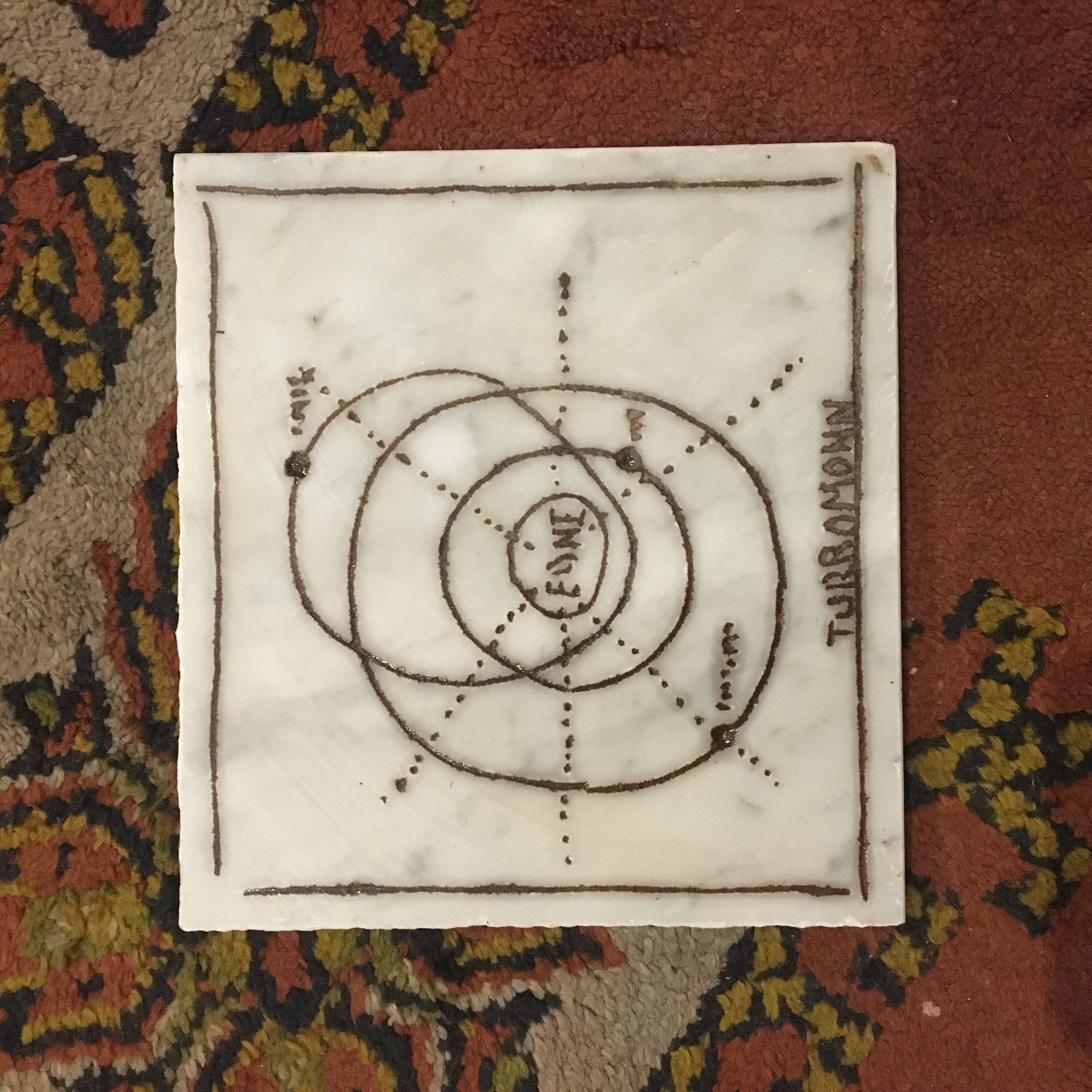 I will give you a taste of your inner desires

Solo Show - Renata Fabbri Arte Contemporanea, Milan, IT
May 27th - 20th July 2019

Curated by
Bianca Baroni

Press & Communication
Renata Fabbri Arte Contemporanea

Artist's Assistants
Matteo Bettini
Alessandro Gerull

Photography
Bruno Bani
For this project the artist develops a new series of paintings which explore the idea of "undressing" as a metaphor of the creation and the experience of images.
The artist plays with the suggestive and imaginative cliché of the strip-tease, a practice that shifts the core of the erotic experience from full nudity to the moment of expectation and projection that anticipates it. The timeframes that mark respectively desire and pleasure merge in one dimension dominated by evocation and imagination, a territory in which reality and fantasy are blurred into one another.
In line with such sensitivity Martinucci's artworks seem to allude to the encounter of different bodies. Each image crystallizes a subject suspended between its sensual revelation and the prudish dissimulation of its own physicality. The artist sets the viewer in the position of a voyeur, an observer that is both discrete and curious, and who is only given a taste, a partial vision of the subject.
At the core of every painting we find images selected from those visual fluxes in which we navigate everyday through social media. Images that are often reconfigured and concealed with diverse motives and colour blocks. The intersection of imaginaries and gestures produces layered compositions revealing the initial figure. A subject that maliciously denies itself to the viewer, just like an entity caught in the middle of an "undressing" ritual.
The seductive disclosure of each figure retraces the suggestion of various bodies. Elusive fragments of limbs and faces alternate soft surfaces and objects that allude to the sinuosity of the flesh. The exhibited works seem to be conceived as the visualization of a feeling, images giving body to the fantasy of a tactile experience.
Will Aliens Believe in Me?

Solo Show - Banca Sistema, Milan, IT
28th May — 20th December 2019.

Curated by
Alessandro Azzoni for Open Care - Servizi per l'Arte

Project Manager and Media Relations
Patrizia Sferrazza

Logistics and set up
Arianna Borroni for Open Care - Servizi per l'Arte

Communication by
Open Care - Servizi per l'Arte

Pubblication by
Open Care - Servizi per l'Arte

Artist's Assistant
Vincent Noire

Photography
Studio Perotti

Download the catalogue
(...) Do aliens believe in us? Are we inferior to "them" or are we already somehow superior in how we rush towards new challenges? The narrative development of the works spans the floors of Palazzo Largo Augusto, the new headquarters of Banca Sistema, bringing together a common narrative thread in which the figurative images featured across the many canvases are hidden by layers of colour, creating "another" world waiting to be discovered by the viewer.
Human figures and animal forms inhabit the canvases, sometimes covered by a palimpsest of backgrounds similar to tears on surfaces, which hide and reveal symbols that are open to interpretation. Entities and objects seem to chase one another up from the large canvases on floor -2, to the ground floor, and then finally to the 7th floor, where the rooms bear the names of classical deities or planets: for example, Jupiter, symbol of wealth and success, and Mercury, emblematic of communication, ingenuity, invention. There is also Diana - the Moon - representing sentiment and femininity, while Ceres is Demeter, symbol of growth, fertility and abundance.

The title of the exhibition, Will Aliens Believe in Me?, highlights the irony the theme of the discovery of new worlds, the courage to embark on new paths, and the leap towards new visions and the future.
A Glass Is Not A Reference for An Amount

Group Show - In De Ruimte Fransevaart 28, Gent, BE
March 1st - April 28th 2019.

Curated by
Van der Borght Bjornus.

Artists
Andrea Martinucci (IT), Baron Lanteigne (CAN), Benny Van den Meulengracht-Vrancx (BE), Bora Akinciturk (TUR/UK), Botond Keresztesi (ROM), Gregory Blunt (CAN/GR), Core.Pan (FR), DYAD ENGINE (BE), Fred Cosci (IT), Eva L'Hoest (BE), Marian Luft (GER), Michele Gabriele (IT), Naomi Gilon (BE), Ruby Gloom (CHIN), x Roga (MEX), Stine Deja (UK), Thomas Hamen (SE), Van der Borght Bjornus (BE)
The title refers to the expression "the glass is half full/half empty" but has a very unpolarizing connotation. It instead sheds light on what causes a certain situation in stead of just naming its existence and thus provoking alternative progressive thinking and situation related problem solving.
The artists have been carefully selected and find their foothold in Post-Internet art but definitely are recontemplating its purpose and esthetics. With this show you will find contemporary and prominent young and established artists of which some shown for the first time in Belgium.
"A Glass Is Not A Reference For An Amount" is a concept exhibition with a very contemporary feel including modern techniques like painting, video and installations revisited in a contemporary context together with new media like 3d generative art and industrial assemblages.
Glory Black Hole

Solo Show - Dimora Artica, Milan, IT
November 14th - 15th December 2018.

Text by
Claudia Contu

In partnership with
Renata Fabbri Arte Contemporanea

Artist's Assistant
Vincent Noire

Photography
Andrea Cenetiempo

Download the catalogue


Nothing unknown is knowable.
Don't you think it's depressing?"

Tony Kushner, Millennium Approaches

(...) For Glory Black Hole, the artist has created a setting that stays in between ordinary life and virtual reality. The canvasses from the .jpeg series inhabit Dimora Artica's groud floor with a curtain displaying "Bliss" (Windows XP's most famous wallpaper), chosen by Microsoft among a number of stock images probably because of its inviting qualities, which would hopefully produce a sense of wellbeing in desk-based employees. If this sense of wellbeing seems artificial and perhaps unachievable, on the contrary the veil in Dimora Artica's space invites you to overcome the hill and reach out for new images, new narratives and new horizons beyond it.
Evoking Arthur Schopenhauer's veil of Maya, the work suggests that only by overcoming an initial state of blindness, which is given by the novelty of the experience you're gathering, you will be able to enter a world where nobody can say that A equals A alone and is different from B, because everything will be just like a dream. To a certain extent, no hypothesised narration will be satisfying enough to fully understand objects, people, the situations they enable or the universe itself. On the first level of the gallery, the misappropriation of one of the most famous maxims of the Western philosophical tradition plays with this potential of being mistaken and warns about the presumption of assessed narratives that serve to establish knowledge systems and beliefs from arbitrary points of view. An epistemological crisis, as I said at the beginning.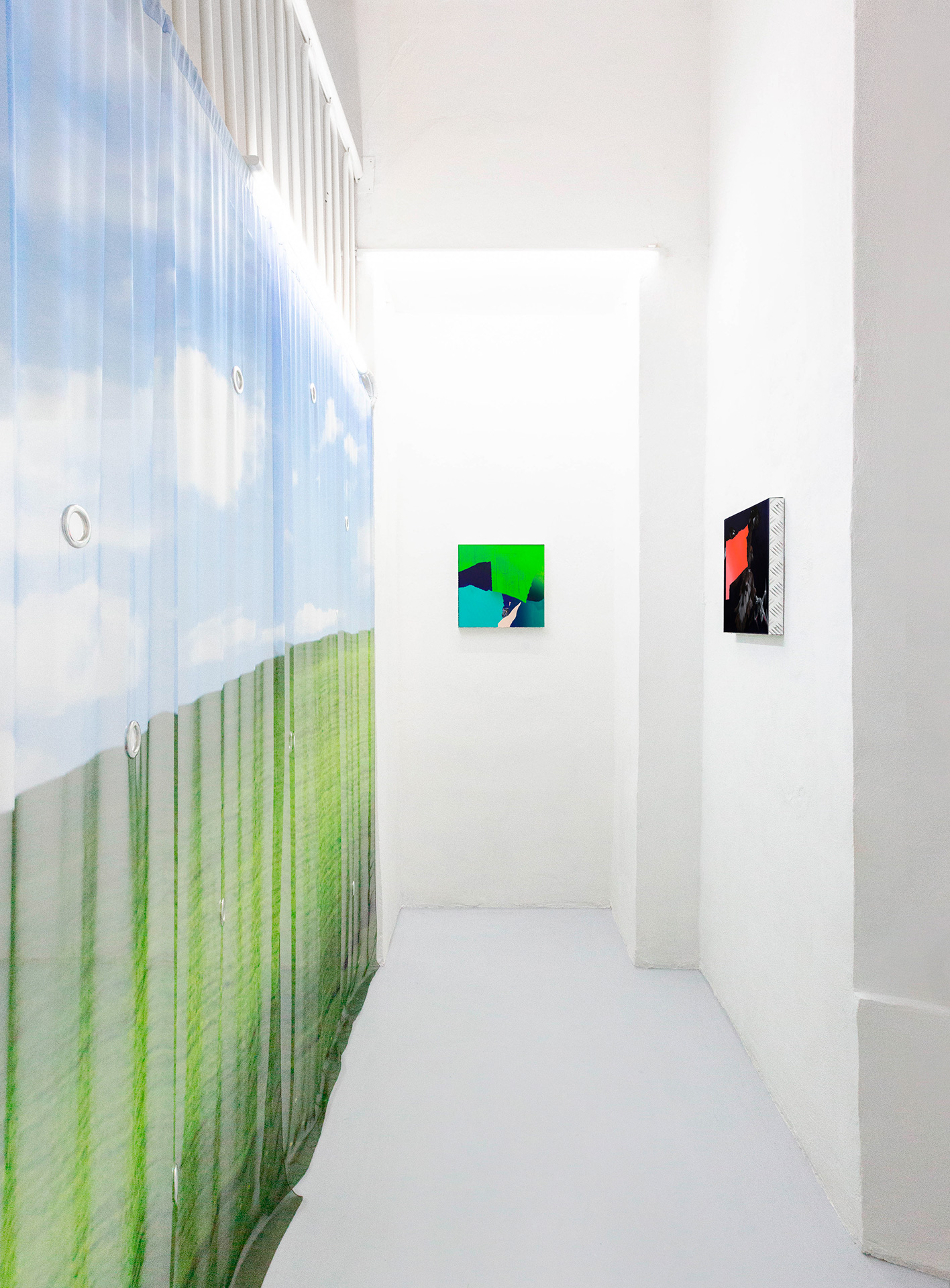 – Where does the flame of a candle go when the candle is turned off? Where does the light go? Where does the past go?


Firstly I realized that I am not immobile at the center of the universe. Then that I am not distinguished and different from any other sentient and non-sentient being. That I am far from being entirely transparent to myself. Now, digital light tells me that I'm not a separate agent, but an informatic organism sharing with others a global environment fundamentally made up of information: the luminous Infosphere.
I observe myself observing myself in the communicative production; I see myself with the eyes of a possible audience; I glimpse myself in the luminous traces I produce online. I observe the light and light observes me and captures me, I am subjected to it. I risk losing myself in the labyrinthic network of changeable and temporary connections, the fragmentation of the perception of myself corresponds to a multiplicity of incoherent and disconnected relations. These intermittences push me in a myriad of directions, leading me to play a quantity of roles such as to make disappear my self-conciousness. (...)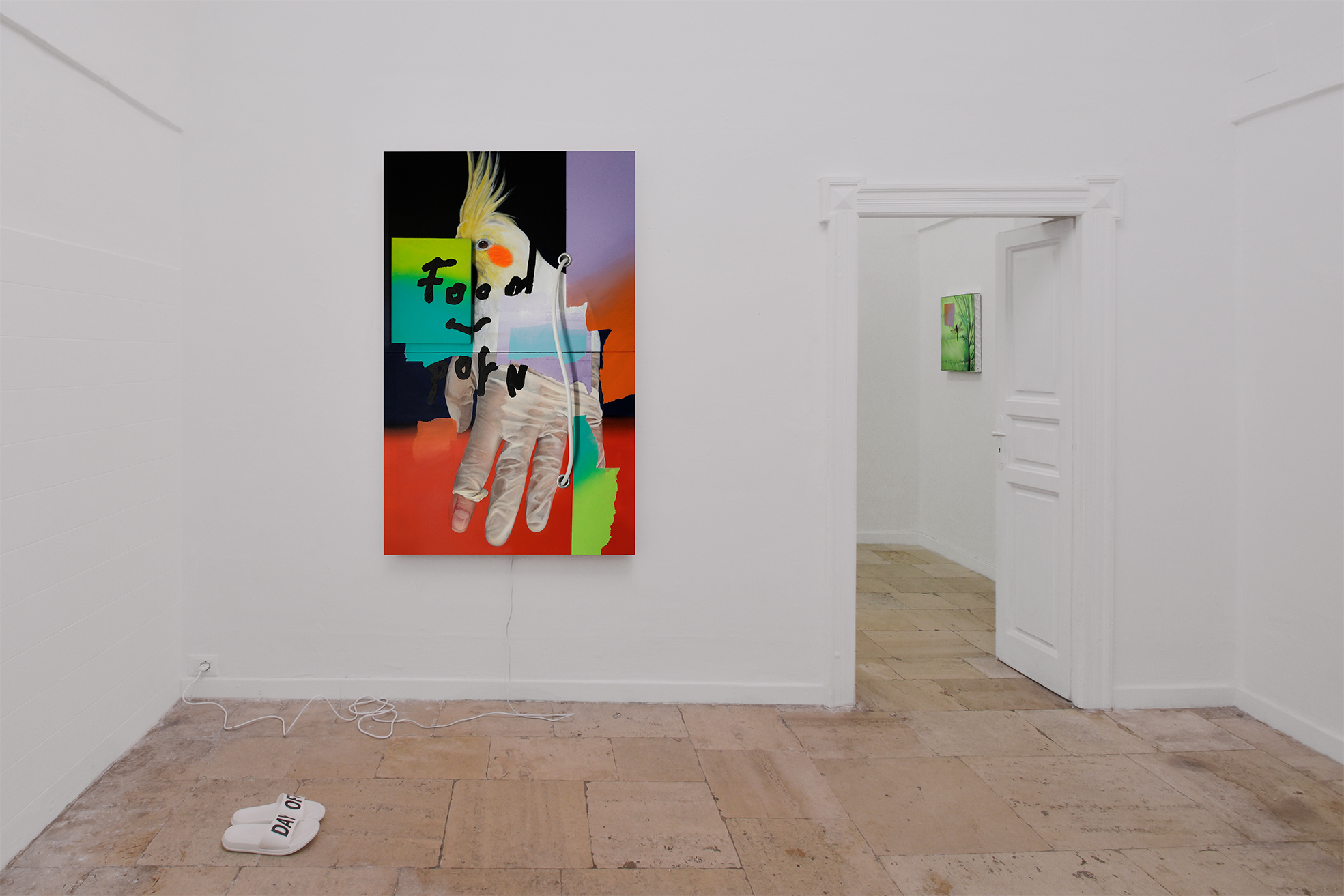 Forever never comes

Group Show - Museo Archeologico e d'arte della Maremma,
Grosseto, IT
26th August 2017 - 26th January 2018

Curated by
Lapo Simeoni

Artists
Alighiero Boetti | Broomberg & Chanarin | Paolo Bottarelli | Sandro del Pistoia | Gabriele De Santis | Rachel De Joode | Cleo Fariselli | Francesca Ferreri | Eloise Ghioni | Jason Gomez | Luca Grechi | Helena Hladilová | Francesco Irnem | Michael Johansson | Felix Kiessling | Andrea Martinucci | Vincenzo Marsiglia | Martina Marlini | Francesco Minucci | Paulo Nimer Pjota | Nicola Pecoraro | Pennacchio Argentato | Massimiliano Pelletti | Luca Pozzi | Przemek Pyszczek | Moira Ricci | Mustafa Sabbagh | Nicola Samorí | Titus Schade | Namsal Siedeckli | Lapo Simeoni | Bosco Sodi | Santiago Taccetti | Lamberto Teotino | Philip Topolovac | Leonardo Ulian | Aaron Van Erp + Antonio Barberi | Cosimo Casoni | Gabriele Dini | Duepernove | Michele Montanaro | Gerald Morder | Aischa Gianna Müller

Photography
Carlo Bonazza
Etruscans? Etruscans never existed. You may ask where they came from; if they came from the continent, from Minor Asia or America. You also make hypothesis that they have always been here. So, you are all both right and wrong, you are considering an issue that doesn't have sense. Would it make sense asking where Piedmontes, Tuscans or Milaneses come from?

Luciano Bianciardi, Il lavoro culturale, 1957
Etruscans used to transform themselves and this is why they arrived until us. Why talking about time in contemporary art if new technologies that are indulging artists in their productive time are becoming part of a mechanism that was already obsolete in its century, or even in the decade next to the creation of the work of art itself? Who are the artists that succeeded in staying in time and holding a dialogue with it? Does the development of the past by facing up the future make sense? The exhibition FOREVER NEVER COMES will deal with these themes by creating a new multi-temporal path about the meaning of contemporary art that needs to dialog with the artworks and the archaeological finding of the Archaeological Museum of Grosseto and the Archeological Park of Roselle.
The artists selected, both emergent and established, will be chosen on a national and international level and they'll need to compare themselves with the symbology of the past and realize a connection between space, time and art using the fortune offered by the Archaeological Museum as an inspiration. Every artist will make an artwork that can be an expositive project or an installation, focused on one or more temporal sections among PAST, PRESENT, FUTURE. There will be also the possibility to include some of these works in the boxes of the Archaeological Museum in order to create a relation between different historical periods.
Endless back up

Group Show - FuturDome, Milan, IT
March, 27th - April, 15th 2017.

On the occasion of
Miart 2017

Organized and curated by
Ginevra Bria
Atto Belloli Ardessi

Curated by
Ultrastudio

Artists
BENOIT MENARD, OLIVER PAUK, ANDREA MARTINUCCI, ZSOFIA KERESZTES,DOMINIK, SEBASTIAN WICKEROTH, RAPHAEL LERAY, SYNCHRODOGS

Photography
Ivan Divanto
"Look at this cochere door! Dwarf! I continued: it has two faces. Two paths here agree: no one has ever paths to the end… This long way to the door and back: it lasts an eternity. And this long way out the door and forward, that is another eternity".

(Thus spoke Zarathustra. Friedrich Nietzsche)

Atlante_
Astral date unknowed_
I feel lost_
Scanning_
Traveling continuously for boundless space is possible. Visit exotic worlds and parallel universes, know the curves of the time, the movements of Sioux endless dances. Travel distances between sidereal signs of present stems from time immemorial it is equally possible. Crossing the left doors of access to satellites that revolve around our shamans perpetual consciences. Admire the hanging gardens of Babylon and then sit down to talk with Destiny and find him obedient it is finally possible. A new world is showing in front of my eyes. This time it's for sure the world from which I left blank. I can hardly recognize it but I feel like familiar. Yet so far, trillions of galaxies far, we have traveled desirous of knowledge for decades whose account is lost. Now I'm here, and I find the endless return. It's been thousands of years and things appear as a new but faded, I forced a door and I find this present still active on my most peripheral and archaic hemisphere of my brain. I'm having a deja vu?
Scanning_
"This I've seen ... I know that person ... I know how it works ... It was so long that it felt not to mention ...". Amarcord. And yet it all seems so rarefied, impalpable, away: it seems to attend the tangibility of echo. Redundancy signals. An holographic memory, fiction. Simulacra of an upcoming reality.
Scanning_
If it were not for my mortal flesh I would say to be in front of what we have tried to find continuously. The Phoenix.
I rediscover a new feeling, an awakening from millennial slumber which start weaned. I'm touching this world. It's the first time and it seems in all a first time. I feel to be entered in connection with this world, I feel a gentle pressure on my meat, everywhere the same pressure. I feel the cold is just a reverse transfer to a feeling if intense heat. I breathe deeply the smell of an old radio. I close my eyes. My robe melts, becomes the first fiber, fragments then finally dust all around. I imagine. On the face drawing a smile. Funeral house.
I open my eyes. I try to find myself and I am not.
I arrived.
I'm feeling lost.
Love you all.
Adamo.